TheLAnd Rises in Weekly's Wake
MEDIA: LA Weekly dwindles as new competition enters fray
Friday, January 25, 2019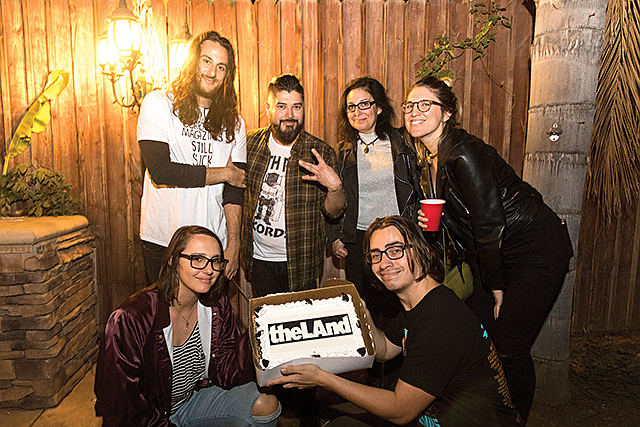 The first month of 2019 has ushered in yet more change for LA Weekly.
Los Angeles' flagship alternative news publication has chopped its content and distribution as it moves to resolve a lawsuit between the newspaper's owners and faces a new competitor − theLAnd Magazine.
TheLAnd is co-founded by Jeff Weiss, who was a columnist for the Weekly. Weiss helped engineer a boycott of the Weekly among some journalists and advertisers, after Voice Media Group sold the publication to a band of mostly Orange County investors.
The new owners opted not to retain 9 of the Weekly's 13 editorial staff members after acquiring the publication in November 2017 under the official name, Street Media. The move helped kick off protests against the new ownership group and, according to Weiss, led to a new publication.
"TheLAnd started explicitly from the boycott," Weiss said. "At a certain point, we didn't want to be entirely negative."
Alternative publications all over the United States are struggling financially, but the Weekly perhaps stands out.

"The situation at LA Weekly is unique and is largely self-inflicted," said Jason Zaragoza, executive director of the Association of Alternative Newsmedia, whose member publications include the Weekly.
LA Weekly publisher and part owner Brian Calle did not respond to requests for comment.
Weekly turmoil
The Weekly in 2018 moved offices from Culver City to downtown, canceled a money-making slate of events, and produced a paper slimmer in advertising and editorial content.
The paper has shrunk further recently, dropping from 39 pages in its November and December editions to 22 pages in the Jan. 18 edition, a 44 percent decline over the first three weeks of 2019.
The Weekly's distribution network has also shrunk. The newspaper decided not to pay the annual fee needed to distribute its product in news racks that already display the Weekly's logo, according to information provided by the Los Angeles Department of Public Works.
The Weekly has about 350 news racks across Los Angeles, Paul Gomez, a Public Works spokesman, said in an email, and renewal would have cost $21.69 per rack or about $7,600 total.
The Weekly must take down its news racks, or the city will impound them, Gomez added.
The paper's remaining distribution outlets consist of papers placed in coffee shops, food marts, and other Los Angeles stores.
The size and distribution changes come as Weekly owners tangle in Los Angeles County Superior Court.
Prev Next
For reprint and licensing requests for this article, CLICK HERE.