Fires Ignite Tetra Tech Biz
ENGINEERING: Firm wins $250M Camp Fire contract
Friday, January 25, 2019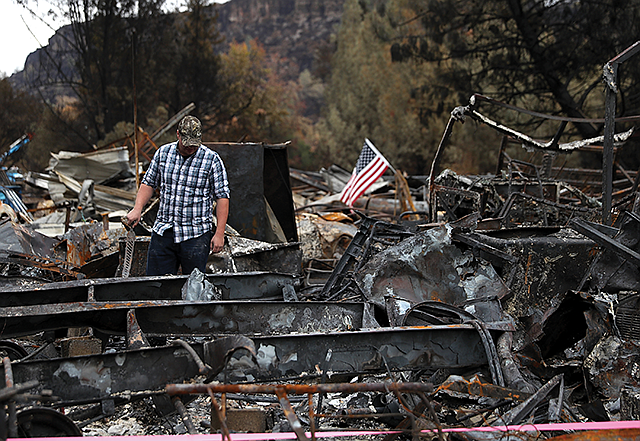 By HOWARD FINE Staff Reporter
Pasadena engineering and environmental services contractor Tetra Tech Inc. is cleaning up on California's wildfires.
Earlier this month, California's Department of Resources Recycling and Recovery (CalRecycle) awarded Tetra Tech a contract worth an estimated $250 million to oversee the cleanup and removal of an estimated 8 million tons of debris generated by the Camp Fire in and around Paradise in Butte County. That fire in early November was the most destructive and deadliest fire in California history, killing 86 people and destroying an estimated 18,800 structures; total losses have been put at $16.5 billion.
That follows three other wildfire debris cleanup management contracts the agency has awarded to Tetra Tech over the last 18 months: $14.4 million for last summer's Carr Fire in and around Redding; $12 million for the December 2017 Thomas Fire in Santa Barbara/Ventura counties and $1.5 million for the Mendocino Complex Fire that burned across much of four Northern California counties last summer.
For Tetra Tech, these contracts – especially the massive Camp Fire debris cleanup – represent a burgeoning new line of work made possible by the ever-worsening wildfire conditions across California. In what former Gov. Jerry Brown termed the "new abnormal," global warming and development encroaching on wilderness areas have translated into longer wildfire seasons, larger wildfires and more structures destroyed.
"Firms such as Tetra Tech that are experienced in the environmental services sector are being called on to share engineering skill and expertise to confront global warming impacts both now and anticipated," Debra Rubin, editor at large for business, management and workforce at Engineering News-Record, a New York publication covering the engineering and construction industries, said in an email.
At the ready
Tetra Tech, through a spokesman, declined to comment or provide a statement regarding its growing work in wildfire debris cleanup management.
But in a statement issued one year ago by Tetra Tech following the award of the Thomas Fire contract, the company said:
"Every year California experiences devastating wildfires that claim lives, destroy property, and harm the environment. Over the past three years, Tetra Tech has assembled an interdisciplinary team to support comprehensive wildfire response on behalf of state agencies conducting recovery efforts."
For the Thomas Fire, the statement continued, the company was "directing environmental monitoring, cleanup, and debris removal operations on behalf of CalRecycle for both private and commercial burned parcels. … Our team coordinates waste streams and appropriate landfill disposals; conducts hazard assessments; monitors demolition, structural ash, and debris removal contractors; manages data; performs real-time air monitoring; and collects soil confirmation samples from cleaned properties to ensure safe transfer back to their owners. This complex, multifaceted project requires Tetra Tech to continuously assess myriad logistical, regulatory, and technical challenges and develop solutions for CalRecycle to quickly restore property ownership to the residents of Ventura County."
And the state agency CalRecycle commented on the decision to award Tetra Tech the Camp Fire debris cleanup management contract, which was first reported in the San Francisco Chronicle.
"Tetra Tech was awarded CalRecycle's Camp Fire wildfire debris management contract under the state's Request for Proposal solicitation process in which the contractor was determined to be both responsive and responsible while offering CalRecycle the lowest project price," according to the statement provided by spokesman Lance Klug.  
"In previous wildfire debris removal operations," the statement continued, "Tetra Tech has proven to be a reliable debris management contractor, meeting CalRecycle's high standards for health and safety, performance, and operational accountability."
In addressing the increasing size of the debris cleanup contract awards, Klug said, "As the severity of recent California wildfires increased, the size of contract awards for debris management and removal increased as well."
Controversial cleanup
CalRecycle has awarded these contracts to Tetra Tech despite an ongoing investigation and prosecution involving a Tetra Tech unit's cleanup management of radioactive soil at the 420-acre former Hunters Point Shipyard and nuclear research site in San Francisco and the urging of a prominent lawmaker not to issue such contracts while that investigation and prosecution are ongoing.
In May, two former supervisors working for Tetra Tech EC, a unit of Tetra Tech Inc., were each sentenced to eight months in federal prison for falsifying records for the nuclear radiation cleanup.
Earlier this month, the U.S. Justice Department sued Tetra Tech EC for an unspecified amount in damages, alleging the company filed more than 200 false invoices for work on the Hunters Point Shipyard cleanup contract.
In a statement, a spokesman for Tetra Tech said the company stands by its work at the Hunters Point site and characterized the mishandling of soil sampling records as limited to the work of two "rogue employees."
A spokeswoman for newly elected House Speaker Nancy Pelosi, whose San Francisco district includes the shipyard site, said Pelosi was concerned CalRecycle awarded the Camp Fire debris cleanup to Tetra Tech.
"We are concerned that Tetra Tech continues to receive contracts amidst ongoing Department of Justice whistleblower lawsuits into their fraudulent work at Hunters Point Naval Shipyard," spokeswoman Taylor Griffin said. "Wildfire victims of California must have confidence that recovery efforts are accurate, trustworthy and safe."
And last week, several residents near the Hunters Point shipyard site held a press conference in front of San Francisco City Hall urging Gov. Gavin Newsom to intervene and cancel the Camp Fire debris cleanup contract, according to a report in the San Francisco Examiner.
When asked about the rigor of the CalRecycle contract award process, agency spokesman Klug said, "All CalRecycle-managed wildfire debris removal operations are conducted with strict contractor oversight measures to protect the health of wildfire survivors, communities, and all workers involved in debris removal efforts, in addition to internal auditing systems to ensure operational accountability. … CalRecycle has (also) implemented an auditing process to act as an additional layer of oversight on all current and future projects."
For reprint and licensing requests for this article, CLICK HERE.