Cal Poly Pomona Reveals $79M Student Center
Local firms behind project say undulating roof is unique
Friday, January 25, 2019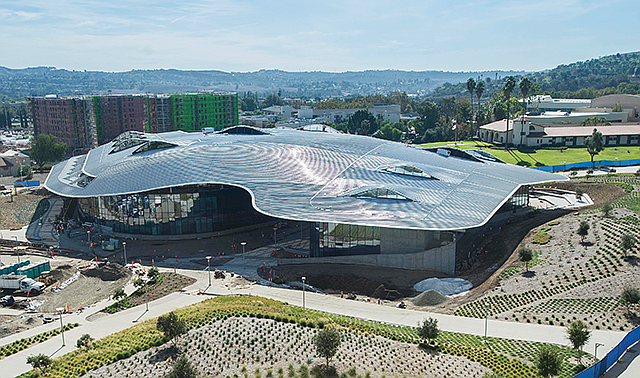 Earlier this month, a $79 million student services building debuted on Cal Poly Pomona's campus. The 138,000-square-foot structure featuring a cantilevered roof of perforated aluminum draping over the sides, was designed by CO Architects, of Los Angeles' Miracle Mile district. C.W. Driver Cos., a Pasadena construction firm celebrating its centennial year, was the prime construction contractor.
The three-story building was dedicated on Jan. 18; it consists of two wings and will house the university's financial aid office, admissions department, registrar's office and the president's office, among other administrative services for the university's 26,000 students. Most of these offices will be relocating in the next few months from an older administrative building, half of which will be permanently shuttered.
"This stunning facility epitomizes Cal Poly Pomona's standing as a student-focused university," President Soraya Coley said in an emailed statement.
The most unique feature is the building's undulating roof.
"Something like this has never been done before anywhere in the world," said David Amundson, project executive at C.W. Driver Cos.
• • •
Construction Apprentices
A new class began at Los Angeles International Airport Jan. 22 to train local residents for construction-related jobs.
The job training is focused on skills needed by contractors working on the $14 billion modernization program in and around the airport. The class has 34 people enrolled as of Jan. 17.
The HireLAX program is part of the project labor agreement that Los Angeles World Airports – the city agency that runs LAX – and the Los Angeles/Orange County Building Trades Council hammered out several years ago and that governs all the capital improvement projects at the airport. The agreement requires contractors to hire at least 30 percent of their workforce for these projects from the local area. Pasadena-based engineering/infrastructure firm Parsons Corp. administers the program, which includes a series of eight-week training classes.
"The mission of HireLAX is to maximize the economic impact of the airport's multibillion-dollar capital improvement program through the inclusion of local workers who are reflective of the diversity of Los Angeles, thereby increasing the supply of local skilled craft labor to meet the market demand," Dan Sloan, vice president of labor relations for Parsons, said in an emailed statement.
LAWA Chief Executive Deborah Flint said in her annual recap newsletter sent out earlier this month that 82 trainees have graduated from all the previous classes.
According to figures provided by LAWA, a total of 55 graduates have been hired to date by nearly three dozen contractors working on LAX capital projects. City of Industry-based Morrow-Meadows Corp., which provides construction services for telecommunications networks, led the way with six hires. McCarthy Building Cos. Inc., of St. Louis, has hired five graduates, while Denver-based PCL Construction Services Inc. has hired four.
• • •
Foothill Gold Line Update
The Foothill Gold Line Construction Authority is preparing to request new bids for its scaled-back rail project, but it's still not entirely certain just how far this next phase of the project will extend.
The project was initially budgeted for about $1.5 billion for a 12-mile line from the current eastern terminus in Glendora to Montclair in San Bernardino County. But rising construction costs resulted in bids coming in substantially higher – about $2.1 billion. So in November, the authority announced it was splitting the project into two phases: a fully funded 8-mile stretch from Glendora to La Verne and postponement of a second phase from La Verne to Montclair until further funding could be secured. A new bid request would be prepared for just the first phase.
But that first phase might now include one more station in Pomona, the authority's Chief Executive Habib Balian said in an email newsletter sent Jan. 18. Balian said the authority and the Los Angeles County Metropolitan Transportation Authority recently identified $133 million in cost reductions. Furthermore, he said, a committee of the county transportation agency board agreed on Jan. 17 to identify another $97 million in additional funds or cost savings that would allow the building out of the first phase to Pomona.
When the revised bid requests finally do go out, two bid teams are currently in the running: a joint venture of Century City-based AECOM and Alameda-based Stacy and Witbeck Inc., and a joint venture of Kiewit Corp. (a subsidiary of Omaha, Neb.-based Peter Kiewit Sons Inc.) and Pasadena-based Parsons Corp.
Staff reporter Howard Fine can be reached at hfine@labusinessjournal.com or (323) 556-8327.
For reprint and licensing requests for this article, CLICK HERE.