L.A. Consumer Sentiment Remained Steady in Fourth Quarter: Survey
Thursday, January 24, 2019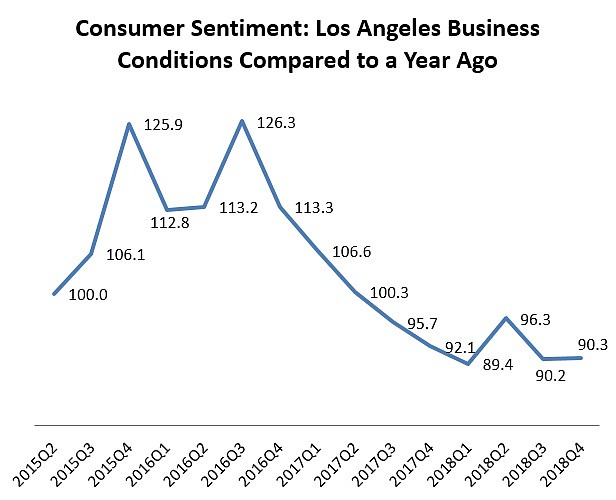 Los Angeles consumer confidence was essentially unchanged during the fourth quarter of 2018 amid cross-currents of positive and negative forces, according to a survey released Jan. 24.
The survey from the Lowe Institute of Political Economy at Claremont McKenna College showed a consumer sentiment index reading for business conditions in Los Angeles County of 90.3, up ever so slightly from 90.2 in the previous quarter.
Local consumers' take on the national economic picture also rose by a small increment, to 92.5 in the fourth quarter from 91.8 in the third quarter.
The indices for consumer sentiment on the local and national economies are the first of their kind for Los Angeles. They are produced through an alliance between the Lowe Institute and Chapman University in Orange.
A baseline index reading of 100 was set in the second quarter of 2015 for the index, which debuted last year.
The fourth quarter reading was from a sampling in mid-December of roughly 500 Los Angeles County residents who answered questions about their current economic situation, their outlook for their own finances and spending in coming quarters, and their outlooks on both the local and national economies.
Importantly, according to Cameron Shelton, director of the Lowe Institute and associate professor of political economy at Claremont McKenna College, the sampling period ended on Dec. 21, the day before the partial federal government shutdown began. That shutdown has had an impact on national consumer sentiment: the monthly University of Michigan Consumer Sentiment Survey for January showed a sharp drop to 90.7 from 98.3 in December, which the authors of that survey attributed in large part to the shutdown.
But in mid-December, the primary negative factor impacting consumers was a series of sharp declines in stock indices, Shelton said.
"People are concerned about their retirement income vanishing," he said. The largest decline in sentiment – 5.4 percent – was among the 55-64 age group and sentiment among all respondents about their overall financial situation declined 4.4 percent, he said.
But this was counterbalanced by the strong labor market. "The December jobs figures from the (California) Employment Development Department showed the local job market was so strong that more people jumped off the sidelines and joined the labor force looking for work," Shelton said.
Also, he said, for those respondents who own or run businesses, "things were looking pretty good."
Finally, he said, rhetoric around trade tariffs was tamped down during the fourth quarter, which may have boosted confidence among those in the import/export and logistics sectors.
Education, energy, engineering/construction and infrastructure reporter Howard Fine can be reached at hfine@labusinessjournal.com. Follow him on Twitter @howardafine.
For reprint and licensing requests for this article, CLICK HERE.