U.S. Supreme Court Decision Seen as Win for Truckers
Tuesday, January 15, 2019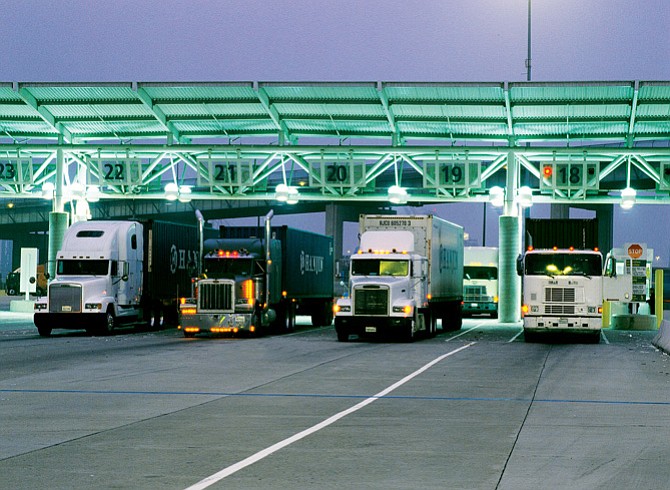 Transportation workers cannot be forced to waive their rights through private arbitration agreements, the U.S. Supreme Court ruled Tuesday in a case that's making waves in Southern California's logistics industry where independent trucking contractors have been fighting for employee status.

The case centers around Dominic Oliveira, a Florida independent contractor for Missouri-based trucking company New Prime Inc. Oliveira had attempted to file a class-action lawsuit alleging the company denies drivers lawful wages and the company countered, arguing he could only file such a claim as an employer, not an as a contractor.
In an 8-0 opinion written by Justice Neil Gorsuch, the nation's highest court ruled in favor of Oliveira and in the process delivered a big win to labor which has been battling to draw attention to the working conditions of independently contracted transportation workers at Los Angeles and Long Beach ports.
The International Brotherhood of Teamsters, which has been organizing workers at the ports, contends trucking companies contract instead of hiring drivers as a way to dodge higher wages and other benefits. The union has backed dozens of class action suits, wage claims and 15 strikes over the last five years at the twin ports, the nation's busiest seaport.
"The U.S. Supreme Court ruling makes it clear that employers cannot and should not require drivers to waive their right to their day in court through binding arbitration agreements," said Fred Potter, director of the Teamsters port division, which has been organizing workers at the Los Angeles and Long Beach ports.
Several federal court cases are looking at the independent trucking model –an industry standard for decades, said Weston La Bar, chief executive of the Harbor Trucking Association, which represents over 100 drayage and related companies.
"Thus far, the courts have mostly agreed with the trucking industry in the cases heard. Unfortunately, we disagree with this decision. It creates a longer, more-costly path to dispute resolution between drivers and companies.
Manufacturing, retail and trade reporter Rachel Uranga can be reached at ruranga@labusinessjournal.com or (323) 549-5225 ext. 251. Follow her on Twitter @racheluranga
For reprint and licensing requests for this article, CLICK HERE.