Toy Story
Ben Goretsky • USAePay
Friday, January 11, 2019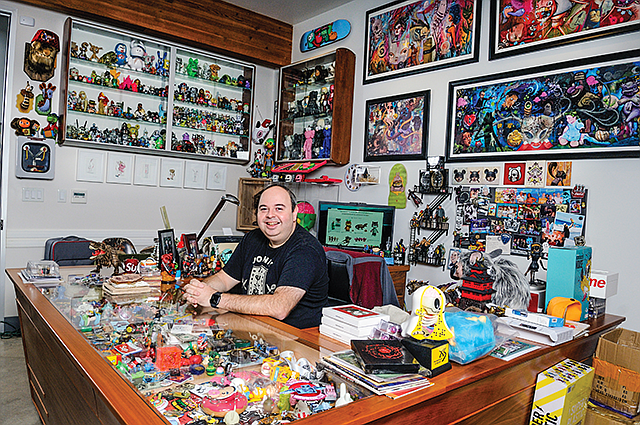 Ben Goretsky, chief executive of Glendale-based USAePay, was deep into the online credit business with his brother and company Chief Financial Officer Alex Goretsky when he first discovered toys as art. The GorCorp Inc.-owned company describes itself as a payment gateway provider that allows merchants to accept credit card and electronic check payments via website.
That was back in 2001 when Goretsky purchased his first piece of toy art as an adult at Comic-Con International San Diego, several years after co-founding USAePay in 1998. The figure, which appears to be a bear with a bar code branded on its forehead − live animal meets technology − was part of a series of bear toys with different artwork on each one.
"A friend and I were looking at these things, and just this idea of art on a 3D canvas was like wow, what a great idea," Goretsky said in a recent conversation at the company's offices. "I loved art already. I would have loved to go into the arts, but my mother always told me I would die a starving artist, so instead, I'm here."
Goretsky is indeed here, right across the hall from Alex's office, but the toys seem to have followed him to USAePay. Thousands of them. Every shelf, nook, display case or wall is occupied by art toys, paintings, graphics and apparel featuring designs by Gary Baseman, Ron English, Kaws, Nychos, Shag and many others. The collection spills over into hallways, conference rooms and murals on exterior walls. Goretsky said items range in value from $10 to $100,000, but once an item enters his collection he rarely sells it.
Unlike collectors of vintage Barbie dolls or G.I. Joe action figures, Goretsky is more interested in the designer than the toy producer. The platform toy shape becomes a canvas for the individual artist.
In 2003, Goretsky and his brother Alex co-founded 3DRetro Inc. to sell art toys online. The idea made sense. "That's what we do at ePay, we help people with their credit processing and opening online stores," Goretsky said. More recently, 3DRetro also has partnered with various artists to produce toys and has opened a brick-and-mortar toy store adjacent to ePay's offices.
In 2005, Goretsky created Vinyl Toy Network, which hosted annual conventions to bring fans, buyers, manufacturers, retailers and artists together. In 2009, Goretsky changed the name to DesignerCon to reflect the inclusion of artists' books, prints and apparel.
For 12 years, the confab took place at Pasadena Convention Center but outgrew the space and in 2018 moved to a new home, Anaheim Convention Center, where it plans to return in November.
Goretsky describes his personal style as pop culture mixed with lowbrow art, but as a toy producer he is determined to leave art to artists. "I do not give any input," he said. "Someone might find some of them offensive, someone might find some of them disgusting, someone might say that is too sexual, or vulgar, or hilarious. But it's a complete and total representation of the artist's work."
For reprint and licensing requests for this article, CLICK HERE.
Stories You May Also Be Interested In