Herbalife Names Michael O. Johnson as Interim CEO, Replacing Richard Goudis
Wednesday, January 9, 2019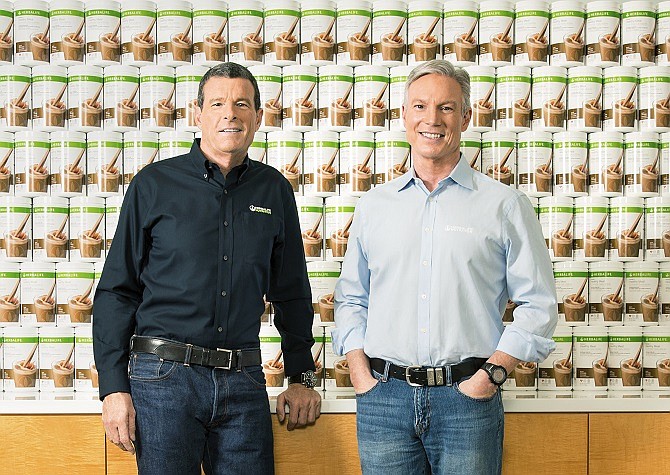 Downtown-based supplement company Herbalife Nutrition Ltd. said that Michael O. Johnson, currently the executive chairman who led the company from 2003 to 2017 as CEO, will reassume the role as CEO on an interim basis following the resignation of current CEO Richard Goudis, effective immediately.
Goudis' voluntary departure is not due to any issues regarding the company's financial reporting, but pertains to "comments which recently came to light," and were made by Goudis prior to his role as CEO, according to a Herbalife statement from its board of directors.

The comments, said Herbalife, are "contrary to the company's expense-related policies and business practices," and "inconsistent with Herbalife Nutrition's standards and do not reflect the company's culture."
Johnson will oversee the operations of the company, along with other senior executives.
The board, which also reaffirmed its financial outlook for this year, expects to select the permanent CEO from the company's senior leadership team.
Goudis was paid a $3.5 million severance, according to a filing with the U.S. Securities and Exchange Commission. He also agreed to not compete against Herbalife through Dec. 31, hire any of its employees or make disparaging remarks about the company, according to the filing.

Founded in 1980, Herbalife sells protein shakes, snacks and a range of diet and nutrition supplements. It uses a network of distributors, who can also sign up new recruits and get paid based on a portion of those recruits' sales.
Goudis, who previously held the title of chief operating officer, took over from Johnson in 2017.
Finance reporter Pat Maio can be reached at pmaio@labusinessjournal.com or (323) 556-8329.
For reprint and licensing requests for this article, CLICK HERE.