Hope Bancorp Plans Bank Branch Closures
Some layoffs possible as bank implements consolidation strategy
Friday, January 4, 2019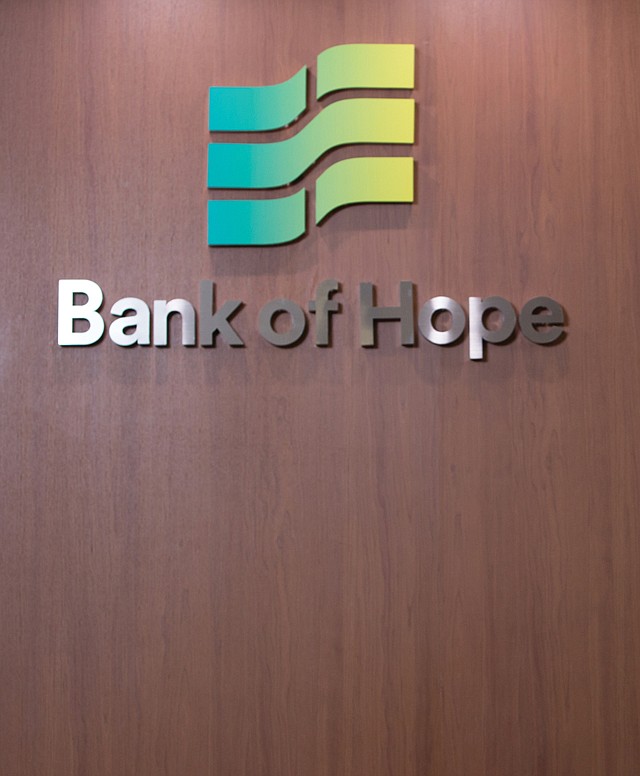 Koreatown-based Hope Bancorp Inc. plans to close nearly 10 percent of its branches over a swath of its nine-state territory in January as well as temporarily end the sale of its small business loans into a secondary market.
The moves are part of its broader effort to improve profitability.
Christopher McGratty, banking analyst with New York City-based Keefe Bruyette & Woods Inc., wrote in a research note that the announcement by Hope Bancorp is "neutral to slightly dilutive to near-term earnings."
"We view the branch announcement as a modest positive with an earn-back under one year," McGratty said. As for the shift in strategy on small-business lending, McGratty said the move will be "modestly dilutive to near-term earnings" with the reduction in quarterly volatility from the fee income derived from the U.S. Small Business Administration guaranteed loans as a "positive."
The bank's strategic moves are part of the institution's wider plan to cut costs and reduce expenses following its July 2016 formation through a merger of BBCN Bank and Wilshire Bank. Hope Bancorp currently has approximately $15.2 billion in assets.
Angie Yang, senior vice president and director of investor relations for Hope Bancorp, the parent of the Bank of Hope, said that up to six of the bank's 63 branches would be shuttered as early as this month.
Bank of Hope has branches in California, Washington, Texas, New York, New Jersey, Illinois, Virginia, Alabama and Georgia.
The layoffs in connection with the branch closings are "not significant" but could affect from four to 10 employees at each branch though many may be shifted to other branches in close proximity as part of an efficiency move, Yang explained.
The company anticipates incurring a one-time pretax charge of about $1.7 million in the fourth quarter ended Dec. 31 in connection with the "branch rationalization plan," she said.
Projected savings are expected to be $1.9 million on a pretax, annual basis with the initial benefits being recognized beginning in the second quarter, starting April 1.
• • •
TriLinc Global makes investment
Manhattan Beach-based registered investment advisory firm TriLinc Global, which has roughly $500 million in assets under management, said one of its three funds has provided $7 million in financing to a mobile-phone distributor operating in Southeast Asia.
"TriLinc has extended over $50 million in financing to the mobile phone distributor since July 2017 in order to support the company in scaling its distribution network in the Indian market," said TriLinc Chief Executive Gloria Nelund.
The Hong Kong-based mobile phone distributor, which was not identified, specializes in the trading and distribution of mobile phones, cameras, music players and home appliances.
The TriLinc Global Impact Fund, which provided the $7 million in financing to the mobile-phone distributor, regularly makes public disclosures on its investments with U.S. Securities and Exchange Commission filings.
The second fund, called the TriLinc Global Sustainable Income Fund and which makes investments for institutions, closed Dec. 31.

Microsoft Corp. co-founder Paul Allen, who passed away in October, invested in the TriLinc Global Sustainable Income Fund in 2017 through his Seattle-based private investment firm Vulcan Inc., according to Nelund.
• • •
Ares buys Texas wind farms
Century City-based global asset manager Ares Management Corp. said a fund managed by its Infrastructure and Power Strategy business has closed on the purchase of three wind farms in Texas from BP Wind Energy North America Inc.
Financial details were not disclosed.
The acquisition includes two wind farms in the western region of ERCOT, or the Electric Reliability Council of Texas, that manages the flow of electricity on Texas' electrical grid, and one wind farm in the northern ERCOT region.
The Sherbino Mesa 2, which produces 145 megawatts (MW) of power, and Trinity Hills, which produces 225 MW, are located in western Texas. The third farm, called Silver Star, produces 60 MW and is located in northern Texas.
Have a deal tip? Pat Maio can be reached at pmaio@labusinessjournal.com or (323) 556-8329.
For reprint and licensing requests for this article, CLICK HERE.