Skylar Body Sniffs Out $8 Million Series A
Playa Vista perfumer lands funding from Upfront, Amplify and other locals
Friday, February 22, 2019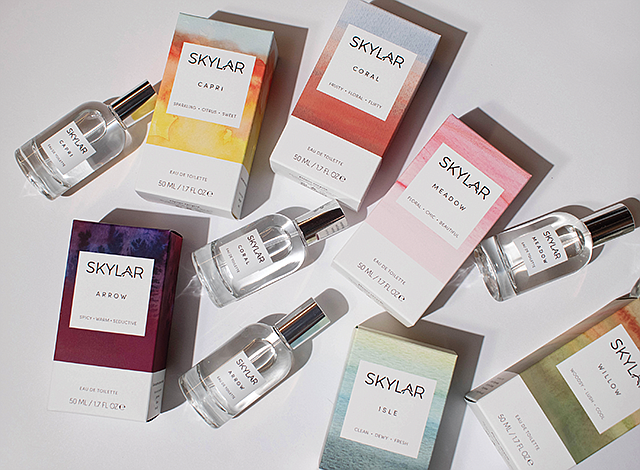 The Playa Vista-based beauty brand Skylar Body Inc. announced Feb. 14 an $8 million Series A fundraise from a consortium of firms, including Santa Monica-based Upfront Ventures and Venice-based Amplify.LA.
The round was led by New York City-based FirstMark Capital, which was an early investor in Pinterest Inc. and Airbnb Inc., both based in San Francisco.
The $8 million Series A round comes a year after Skylar raised a $3 million seed round led by Upfront.
The company was founded by Cat Chen, former vice president of operations at Playa Vista-based Honest Co. Inc. Chen said her online-based, direct-to-consumer firm would use the money raised to help scale Skylar's operations.
"We'll be using these funds to reach more women across the world, to scale our teams across all functions, to expand our product categories and to embark on new distribution points," Chen said in an interview. "We know that we are just at the beginning of something truly incredible, and this capital will help us reach our potential."
The company's fragrance line excludes what it considers "dirty ingredients" and advertises products that contain no animal-derived ingredients, mineral oil and petrochemicals, parabens, phthalates, sulfates, or synthetic dyes. Chen started Skylar, which now has six employees, after discovering her newborn daughter was allergic to her traditional perfumes.
Other investors include Brian Lee, co-founder of Honest Co.; Karen Katz, former chief executive of Dallas-based luxury department chain Neiman Marcus Group Inc.; Jake Kassan, founder and chief executive of Playa Vista-based MVMT Watches Inc.; Jeff Kearl, founder and chief executive of San Clemente-based Stance Inc.; and Menlo Park-based GingerBread Capital.
• • •
Super League plans IPO
Santa Monica-based Super League Gaming Inc., a cloud-based platform that helps connect online gamers to each other, plans to raise up to $25.8 million in an initial public offering on the Nasdaq Stock Market on Feb. 26.
The shares, which have not yet been priced, are expected to trade between $10 and $12 under the symbol of "SLGG," according to the firm's S-1 filing with the Securities and Exchange Commission.
The company filed to go public on Jan. 4.
Super League Gaming, which was founded in 2014, describes itself as using proprietary technology and partnerships – including one with West Los Angeles-based video game developer and e-sports giant Riot Games Inc. – to organize amateur gaming competitions both online and at sites such as movie theaters.
Northland Securities Inc., Lake Street Capital Markets and National Security Corp. are the Super League offering's underwriters, according to the company's SEC filing.
Ann Hand, who was previously head of Project Frog Inc., a company that makes parts for energy-efficient buildings, is Super League's chief executive and board chairwoman.
The company plans to sell 2.3 million shares in its proposed offering set for Tuesday.

Super League lost $20.6 million in 2018 on revenue of just over $1 million, and it lost nearly $15 million in 2017 on revenue of approximately $200,000.
• • •
OpenGate Capital buys France-based SMAC
Century City-based private equity firm OpenGate Capital has agreed to buy a French affiliate of the Colas Group that manufactures waterproofing and "building envelope solutions," or architectural facades.
Colas agreed to sell Issy-les-Moulineaux, France-based SMAC to an affiliate of OpenGate Capital. SMAC has two divisions: SMAC Travaux and SMAC Industrie.
Financial terms of the agreement were not disclosed. The divestiture is expected to be complete by mid-May.
The sale of SMAC, which has 3,400 employees, will reduce Colas' revenues by an estimated $677.9 million.
The acquisition gives OpenGate another piece in its portfolio of businesses, which includes other industrial companies that provide building materials and solutions.
Have a deal tip? Pat Maio can be reached at pmaio@labusinessjournal.com or (323) 556-8329.
For reprint and licensing requests for this article, CLICK HERE.