ServiceTitan Announces Office in Armenia
Return to roots for founders; plan to grow outpost to 50 employees by end of 2019
Friday, February 22, 2019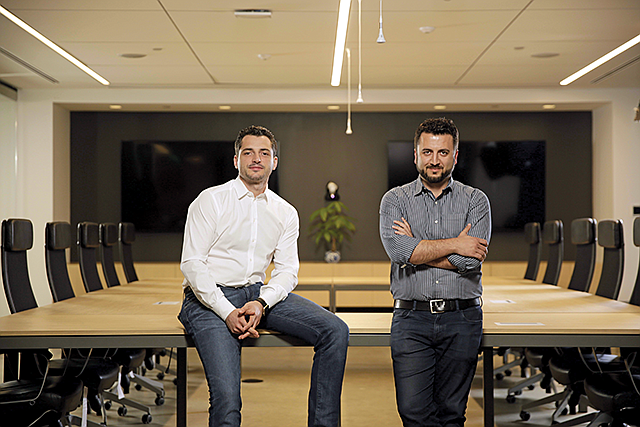 Glendale-based home services software developer ServiceTitan Inc. is making a foray into Armenia.
The company announced this month it opened an office in Yerevan, which will be the company's first in that nation.
"Initially it's going to be an engineering office with a handful of senior employees, primarily for extending our team, which is working on product development," ServiceTitan President and Co-Founder Vahe Kuzoyan said in a statement. "If that's successful, I can see our employee numbers growing exponentially. It depends on how effectively and fast we can scale."
ServiceTitan was founded in 2012 by two Armenian-Americans who immigrated to the United States as children, which makes the new office a return to roots for Kuzoyan and co-founder and Chief Executive Ara Mahdessian.
ServiceTitan has raised $326 million from venture firms since it was founded, including funding from Santa Monica-based Mucker Capital, which contributed to ServiceTitan's $19 million seed round in June 2015. Most recently, ServiceTitan raised a $165 million Series D round in November.
The office in Armenia opened Dec. 13, but the company announced the new location Feb. 15. A spokeswoman for the company said ServiceTitan plans to grow the office to 50 employees by the end of the year. The company currently has seven employees in Armenia.
• • •
Sony Joins Academy Software Push
Culver City-based Sony Pictures Imageworks Inc. is giving its color correction software – free of charge – to members of the Academy of Motion Picture Arts and Sciences' Academy Software Foundation.
The Sony Pictures' software joins DreamWorks Animation's OpenVDB animation editing software as offerings for the Software Foundations' members. The Sony software was used to animate films like "Alice in Wonderland" and "Watchmen."
"OpenColorIO has always been a resource for the entire VFX/animation community, with many outside contributions and commits," Sony Pictures Imageworks Head of Software Development Michael Ford said in a statement.
"We want to contribute OpenColorIO back to the community that relies on it, and the Academy Software Foundation is the natural fit. The developers and companies that use it every day will guide the project roadmap, starting with the features and release cadence for the new 2.0 version," Ford added.
"OpenColorIO is one of the fundamental open source projects in the motion picture industry, and it has become a critical resource for the entire visual effects (VFX) and animation community," said Academy Software Foundation Executive Director David Morin. "Many developers across the industry already contribute to OpenColorIO, and we hope to make it easier for them to do so."
The Academy Software Foundation was launched in August 2018 by the Academy and San Francisco-based Linux Foundation, which was created in 2000 to be an organization of developers and companies that agree to advance technology by publishing software and training tools, and linking developers to collaborate on open source projects.
• • •
Moving Upward and Onward
Loton Corp., doing business as LiveXLive Media Inc., appointed Patrick Wachsberger to its board of directors and its compensation committee Jan. 25. Wachsberger joins the live music streaming company following his tenure as chairman of Santa Monica-based Lions Gate Entertainment Corp.'s motion picture group. He also founded and serves as chief executive of Picture Perfect Entertainment, a film and TV venture with French firm Federation Entertainment…Video production and marketing agency MuteSix Inc. announced four new leadership hires Jan. 23 to further its mobile-video advertising offerings. Marc Loreti and Holly Martin will join the firm as vice presidents of business development, while Bree Blackman will be the firm's new ice president of creative strategy. Ross Bucholc is MuteSix's vice president of paid search…Deborah Benton joined Santa Monica headquartered Leaf Group Ltd.'s board of directors Jan. 29. She fills the board seat abandoned by Victor Parker, who resigned Nov. 5 for undisclosed reasons. Benton's advisory role with the online publishing firm runs concurrent with her work as an investment partner for Kaktus Capital and her position as senior consultant for Mitchell Madison Group, both based in Jackson, Wyo.
Staff reporter Samson Amore can be reached at samore@labusinessjournal.com or (323) 556-8335.
For reprint and licensing requests for this article, CLICK HERE.