Pluto TV Finds Profitable Path
MEDIA: Streaming service cashes out in $340M deal
Friday, February 22, 2019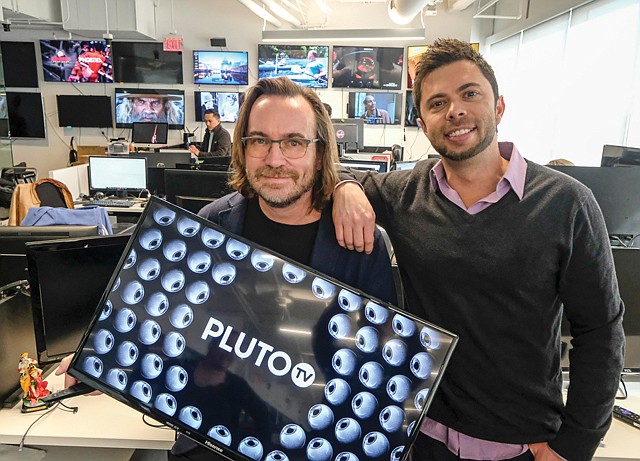 The website and app for Pluto TV went live on April Fools' Day 2014, showcasing streaming television channels most people had never heard of.
The quirky content provider, though, proved to be no joke, with enough staying power that media conglomerate Viacom Inc. bought streaming service company Pluto Inc., doing business as Pluto TV for $340 million in cash last month.
Pluto now occupies the 16th floor of a West Hollywood high-rise and employs 158 people. Sources close to the company said Pluto generated about $70 million in 2018 revenue, tripling its 2017 figure.
The revenue is entirely from ads. Pluto is free and does not require user registration.
The content provider is one of many streaming TV and movie platforms that launched in the last few years, which has generated questions about how many services is too many for the market to bear.
Pluto's trajectory, though, shows streaming as an overarching phenomenon maybe has grown because there are different ways to succeed. While industry leader Netflix Inc. took off through subscriptions – first to a DVD delivery service and then to an online streaming platform – Pluto has grown via a broader rise in online advertising and smart televisions.
The ad-reliant business model could carry Pluto for at least the near term, said Scott Ensign, vice president of digital media at consulting group Butler/Till Media Services Inc., as traditional TV continues to decline.
Pluto found its orbit in the streaming market "with a seemingly contrarian bet," according to Tom Ryan, Pluto's chief executive and a former music industry and e-commerce executive. Ryan's bet was that, while consumers are switching to digital viewing, they remain content with a TV-style format, including advertising.
A typical hour of Pluto TV has about eight to 12 minutes of ads, Ryan said.
Pluto bet on ads at an auspicious time. Advertising revenues from over-the-top ad platforms hit about $2 billion in 2018, according to research firm Magna Global USA Inc., a 40 percent climb from the year before.
"Advertisers have seen a decline in the effectiveness of linear TV, and they want to have a foothold in the over-the-top space," Ensign said.
Pluto can also mine data about viewers to target ads, which is a feature traditional TV has yet to unlock.
New York City-headquartered Viacom mentioned in its press release announcing the acquisition of Pluto (the sale is set to close in March) that it coveted the company's "advanced advertising" data.
"Viacom feels they can get feedback on advertising that they haven't had," said Wayne Friedman, editor at trade publication Media Post.
TV from the internet
Pluto perhaps appeals to traditional TV advertisers because the product itself resembles a traditional TV listings channel.
The user scrolls down a pitch-black screen with white lettering to see programs on channels categorized by "movies," "news," "sports," "comedy" and "geek & gaming," among others.
There are also a few dozen on-demand movies and TV shows, which have the same number of ads.
There are about 130 total channels, with offbeat offerings from holiday movie "pop-up channels" to a station dedicated to cat videos.
Some of Pluto's more mainstream content dovetails with the company's investors.
Pluto has a Sky news channel from early investor Sky Media Ltd., of London, and content from equity financier Scripps Networks, which Discovery Inc. acquired last year.
Pluto has more than 100 channel content partnerships, Ryan said, with providers getting up to a 50-50 split in revenue.
The company has raised $51.8 million in equity financing, Ryan said, with money from companies including Menlo Park-based U.S. Venture Partners and Santa Monica-based Universal Music Group Inc.
As important as any venture capital investment, though, was Pluto's partnerships with smart TV operating systems.
The company's history coincides with the proliferation of smart TVs, or televisions with internet access. Forty percent of all TVs in U.S. households were internet enabled as of June 2018, according to a Nielsen Holdings report.
Pluto reached a breakthrough in visibility during the company's first year, said Ilya Pozin, Pluto's chief growth officer, when Google's Android TV had the Pluto app appear as users scrolled through their smart TV display.
Pluto has since entered similar partnerships with companies including Amazon.com Inc.'s Fire TV and Roku Inc., which displays the Pluto app to any user interfacing with its smart TV operating system.
Pluto declined to give specifics about its agreement terms with Google.
"I would assume Pluto is paying for the placement," said Alan Wolk, founder of consulting firm TV Rev. "But it seems savvy to promote through smart TVs."
Ryan said he expects Pluto's apps to be on 30 million smart TVs sold in the United States by later this year.
Of the 12.5 million people who use Pluto at least once a month, Ryan said, 7.5 million access the service through a smart TV.
Streaming solar system
Bob Bakish, Viacom's chief executive, couched the Pluto acquisition as tapping into a market that has eluded the media empire, which already owns Paramount Pictures Corp., DirecTV Inc., cable bundling service Philo Inc. and cable channels including Nickelodeon.
"We believe the majority of the Pluto TV audience is not watching pay TV today," Bakish said during an earnings call, adding that Pluto's audience leans toward millennials.
Ryan, who will remain as Pluto chief executive, noted Viacom might add some of its content and perhaps introduce a subscription add-on.

"We want to be the biggest free and then ultimately freemium television service in the world," Ryan said.
Pluto is up against a dizzying list of streamers, many backed by their own corporate parents.
Subscription services include Netflix, Amazon Prime, Hulu, CBS Corp.'s CBS All Access, plus upcoming fare from Walt Disney Co., Warner Media and Apple Inc.
The free, ad-supported market is also growing, mostly comprised of low-cost sites featuring on-demand movies and TV shows of yesteryear.

In addition to industry leader YouTube, owned by Alphabet Inc.'s Google, there is Walmart Inc. (Vudu Movies on Us), Roku (The Roku Channel) and Sony Pictures Entertainment Inc. (Crackle) with services that command a few million users per month.
Comcast Corp.'s NBC Universal is also set to roll out its own ad-supported service.
"We have seen new announcements about streamers popping up all the time," said Michelle Wroan, media sector leader for KPMG. "The traditional media companies feel an urgency to evolve and adopt to the new platform."
At some point, Wroan said, the dam will break. "We believe there is going to be some kind of consolidation into fewer platforms," she said.
But such a reckoning is not imminent, predicted Ensign of Butler/Till, with streaming still gobbling up younger viewers and people moving away from traditional TV.
"I envision some consolidation of these services over time," Ensign said. "But I expect a multitude of options and more fragmentation in the foreseeable future."
For reprint and licensing requests for this article, CLICK HERE.