Hot Market for Cold Storage
REAL ESTATE: Facilities in high demand as supply dwindles
Friday, February 22, 2019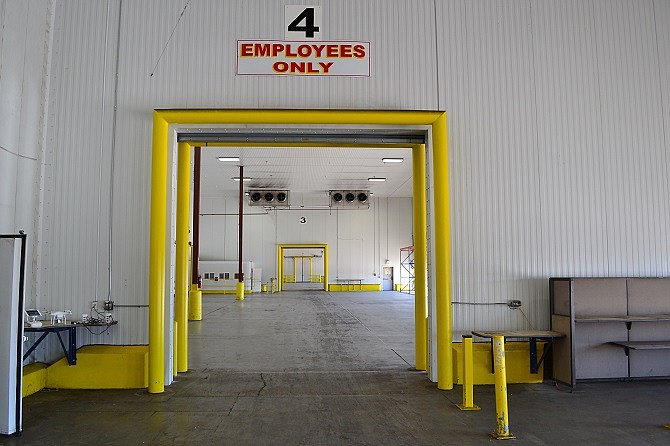 Tenants looking for cold-storage warehouse space in Los Angeles are getting an icy response from landlords as demand for temperature-controlled environments far outstrips supply.
A report released Feb. 11 by Avison Young Inc. found L.A. had a 0.6 percent vacancy rate for cold storage space – a mere 149,889 square feet, according to the report.
"We're seeing an increase in demand across all markets," Avison Young Principal Todd Heine said. "L.A. has a huge population and the typical drivers of light and cold storage. You also have the added component of it being a major port for the U.S."
Jeff Sanita, a senior managing director at Newmark Knight Frank, estimated that cold storage facilities make up less than 1 percent of L.A.'s industrial market. He added that available cold storage space is "almost nonexistent."
Despite the crunch, zero cold storage facilities are currently under construction in Los Angeles, according to the Avison Young report.
One reason for the freeze on projects, according to Patrick Schlehuber, an executive vice president at Sawtelle-based Rexford Industrial Realty Inc., is that these types of facilities cost approximately three times as much to build and maintain as dry facilities.
While the cold-storage crunch could be bad news for tenants, it makes existing facilities an attractive target for investors like Rexford.
"We like the demand profile," Schlehuber said. "They are difficult to build because they are so expensive, and there is great demand. There is very low vacancy for them. People need to eat in good times or in bad."
Schlehuber said he anticipates his firm will purchase more cold storage facilities moving forward.
"The thing we like about them is they, despite the higher caps, get a higher return," he said. "We've found that they are really not that hard to manage. There's not a big tenant replacement cost."
Industrial boom
Brokers and industry experts agree that industrial is a hot spot in the market now – 13.6 million square feet of industrial space was sold or leased in the fourth quarter of 2018, up 16.2 percent from the year prior, according to data from Jones Lang LaSalle Inc. – and cold storage facilities are a part of that boom.
Stephen Summers, director of asset management of Commerce-based Dedeaux Properties, said there's a particular premium on energy-efficient facilities that are larger than 100,000 square feet, like the Los Angeles Food Center − a roughly 266,000 cold storage facility in Vernon − that the company sold to Irvine-based LBA Realty for $57.8 million in March.
The market crunch has Dedeaux looking for new opportunities – and despite the costs, that means building from the ground up.
"It's easier to do a ground up," Summers said. "You can't do it as a conversion."
He said as e-commerce and fast shipping promises continue, increased demand will lead to construction of smaller facilities, similar to the 40,000-square-foot facility in Vernon the company is in the early stages of developing.
Dedeaux Properties also owns 3501 to 3425 E. Vernon Ave., a 186,652-square-foot food processing and cold storage distribution facility in Vernon.
"We're not seeing anything that dictates that demand will taper out anytime soon," he said. "We believe it's going to continue to increase."
New projects that do come down the pipeline, experts said, will be built for specific tenants, not speculative space a developer hopes to lease later.
"Cold storage or freezer space is unique," Newmark Knight's Sanita said. "It's not like a typical dry building. They are very much built to suit. Most of the time, you are trying to go as high as possible to get the highest amount of cube space. You have a limited pool of users that would use that building, and it can't really be repurposed for anything else if a tenant moves out."
Summers said Dedeaux Properties does not do any spec cold storage facilities.
"We build per the specifications of a tenant. It's cost prohibitive to do on a spec basis," he said.
Tenant improvements
It seems, for now, that Dedeaux is an outlier in cold storage construction in the Southland. JLL Managing Director Tim O'Rourke said the facilities have a high return from an investment standpoint but are incredibly tricky to build.
"In Southern California it's very difficult to develop because of constraints and lack of land," he said. "Cold storage tends to be very capital intensive."
As a result of the high costs, Sanita said, low vacancy rates are forcing some tenants to look at converting dry storage facilities into cold storage.
But not all landlords are on board with a conversion project.
"If it's a tenant, landlords are not always willing to allow that use. Freezers can cause problems down the road if they are not installed properly," Sanita said.
The most difficult retrofit is the flooring, which needs to be insulated so water that is naturally in the ground won't freeze. Ice can expand into the foundation slab and move the floor if the insulation is not properly installed.
CBRE Group Inc. Senior Vice President Art Rasmussen said landlords are not always comfortable with changing floors and adding drains.
"Those are (tenant improvements) that are considered above standard and not every owner is comfortable providing that extra (tenant improvement) because they are concerned about the reuse of them," he said.
Landlords may consider cold storage or food manufacturing improvements if they have a tenant with good credit but are less likely to do so for a startup company.
The facilities also cost a lot of money to run. Schlehuber said in cold storage facilities, the electric bill can be as much as rent.
Heine said operating costs for a cold storage facility are generally four to five times that of a dry facility.
For reprint and licensing requests for this article, CLICK HERE.