More Buck, Less Bang
Smaller lessees squeezed on tenant improvements as construction costs rise
Friday, February 15, 2019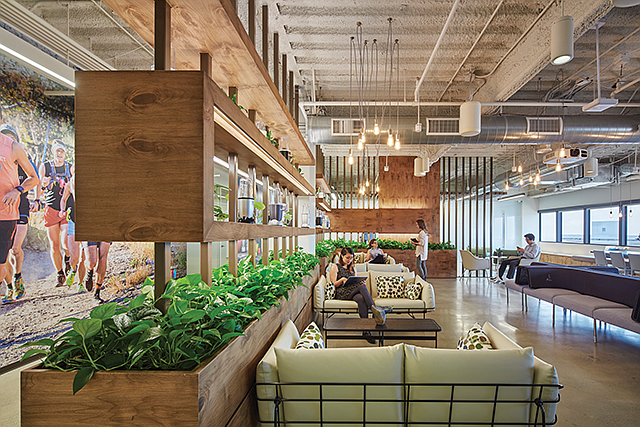 Tenants like Netflix Inc., Google and Amazon.com Inc. have recently made substantive incursions into the Los Angeles area, taking hundreds of thousands of square feet in office space in markets such as Hollywood, West L.A. and Culver City.
These giants, which are taking large leases in high-demand areas, are able to get concessions from landlords that many other tenants are not able to negotiate for. Increased budgets for specific modifications to work areas – referred to as tenant improvement allowances – can be particularly high for desirable tenants signing long-term leases for large blocks of space.
"Landlords are bending over backwards for them," Newmark Knight Frank Executive Managing Director Ryan Harding said.
But for smaller, less desirable renters, tenant improvement budgets are not what they used to be. Some brokers said rising construction costs mean these allowances aren't going as far as they once did, forcing tenants to bear more of the cost for improvements, scale back plans for office design, or stay put for longer because of budget constraints.
"There's a disconnect right now between how much construction prices have increased and what landlords can and will give in tenant improvement allowances to make a deal make sense financially," Harding said. "The two don't match."
Harding said there has been a 30 to 40 percent increase in construction costs in the last six or seven years. He said it has become incredibly difficult to stay within budget as a result.
Jones Lang LaSalle Inc. Managing Director Patrick Church said that the cost of steel in particular has caused construction costs to spike. Church added that a tight labor market is also a factor, with many contractors so busy that it is often hard to find people who will do an office buildout in a reasonable time period for a reasonable sum.
"Tenant improvement allowances are not rising at the same rate," Church said.
Negotiating tactic
Tenant improvement allowances are a key part of lease negotiations and get discussed very early in the process, brokers said.
"The day the tenant tours, the topic of tenant improvements come up," Church said.
CBRE Group Inc. Senior Vice President Scott Steuber agreed.
"There are five main levers in a transaction," he said. "One is term length, two is rental rate, three is square footage, four is free rent, five is tenant improvement allowances."
The landlord gives the tenant an agreed upon amount. The tenant must pay for anything above that amount. The landlord needs to approve the changes being made. The amount allocated for tenant improvements varies from market to market. For the most part, though, if you are signing a short lease or only occupying a small amount of space, you won't be getting as much in the way of tenant improvement allowances.
Brokers say the credit worthiness of the tenant also plays a huge part in allowances, giving the Amazons and Googles of the world more leverage in negotiations.
Unless you are one of these behemoths, you have less leverage. Most other tenants in the tech space, as well as other industries, aren't signing long-term leases.
"The primary industry that is driving this market here is tech," said Newmark Knight Frank's Harding. "If you are a tech company in a growth or startup stage, you're not signing a 10-year lease."
Scott Hunter, a principal at Dallas-based architecture firm HKS Architects' Los Angeles office, said most tenant improvement allowances only cover a "generic, vanilla space."
Rent consideration
There are situations where tenant improvement funds can be bumped up if a landlord wants other concessions from a lessee.
Allowances, some said, can be used in negotiations so a landlord can keep recorded rents on a property high while offering the tenant a deal.
Hunter said some landlords "might not want to lower rent for optic reasons but give more allowances instead."
Steuber said higher tenant improvement allowances could mean higher rents as long as it all still made sense financially for the landlord.
"At the end of the day, the financial package − the overall financial value of the transaction − there's a general target for the landlord and what they want to hit," he said.
Bill Boyd, an executive vice president at Kidder Mathews, said most quoted rental rates include an assumed allowance.
"Some landlords, in order to induce the transaction or to secure the tenant, will provide improvements on a turn key basis meaning the landlords will do the interior construction at its cost so that the tenant does not have to guess or budget or make any assumptions as to whether the allowance will be enough to construct the improvements it anticipates," Boyd said. "The catch is, only the most astute landlords typically can do this because they know their costs and have set contract prices with preferred contractors and vendors so that they can pretty much be assured that this turn key construction will be within budget."
Some landlords, he said, might make concessions based on tenant improvement allowances other than rent. If the allowance is low, the landlord may offer rent abatement the first year of the lease. The practice, he said, is common in the Tri Cities but not as likely in areas like West L.A. since there is no need for rent concessions in the tight market.
For reprint and licensing requests for this article, CLICK HERE.