Colony Capitulates, Gets Two New Directors
Tom Barrack-led real estate investment firm adds board members at activist's request
Friday, February 15, 2019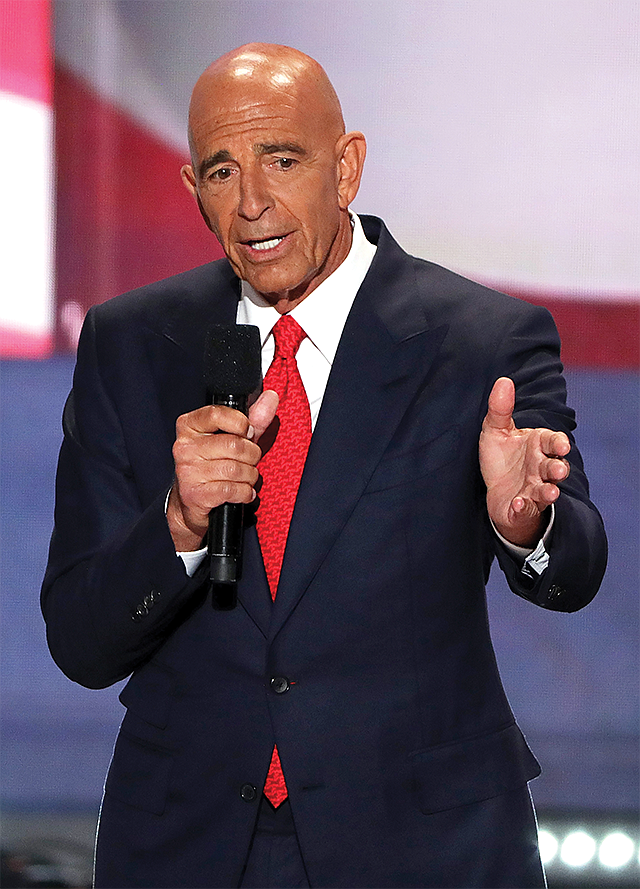 Colony Capital Inc., the downtown-based real estate investment firm with more than $44 billion of assets under management, reached an agreement with one of its activist investors that adds two directors to its board immediately.
The company also vowed to begin a strategic review of its business, according to a prepared statement.
Colony, which is run by Thomas Barrack Jr., the firm's chairman and chief executive, said in the statement that Craig Hatkoff and Raymond Mikulich will join Colony's board as part of a pact with New York City-based Blackwells Capital, an alternative investment management firm.
Colony and Blackwells, which owns about 2 percent of Colony's shares, will jointly agree on a third, new director at a later date, according to the statement.
"Both Ray and Craig bring valuable real estate and finance experience as well as new perspectives to our board," Barrack said.
Colony said it formed a strategic asset review committee, which will make recommendations to the board on issues related to the company's assets and business configuration.
Mikulich and Hatkoff will sit on the committee.
"Colony has a great portfolio of assets and significant opportunities ahead to create value for all shareholders," Blackwells Managing Member Jason Aintabi said in a statement.
Mikulich has significant experience in the real estate industry, having served on the boards of a number of public and private real estate companies, including Toronto-based Altus Group Ltd.; Charlotte, N.C.-based Campus Crest Communities Inc.; and Arlington, Va.-based Interstate Hotels & Resorts Inc.
Hatkoff has an extensive real estate and capital markets background, including formerly serving as the managing partner of New York City-based Victor Capital Group, co-head of the real estate investment banking unit of New York City-based Chemical Bank (since purchased by JPMorgan Chase & Co.); and director of New York-based Capital Trust Inc.
Colony's shares have plummeted about 59 percent since early January 2017 after it merged with NorthStar Asset Management Group Inc. The stock closed Feb. 12 at $6.08. In early 2017, when the NorthStar deal was announced, Colony's shares traded at $14.73.
• • •
Marlin-owned Logi buysJinfonet
Marlin Equity Partners, a Hermosa Beach-based global investment firm with $6.7 billion of capital under management, purchased Jinfonet Software Inc., a provider of embedded analytics and reporting software.
The company's software embeds customizable reports and dashboards into web applications that allow end users to make better business.
Terms of the transaction were not disclosed.
Rockville, Md.-based Jinfonet will be merged with McLean, Va.-based Logi Analytics Inc., already a Marlin portfolio company. The bolt-on acquisition will enhance Logi's embedded analytics platform with new reporting capabilities, according to a company statement.
"With software becoming a core and disruptive factor across many businesses, applications are increasingly being driven by analytics," said Logi Chief Executive Steven Schneider, in the statement.
"Our core thesis when we invested in Logi was to help the company solidify its position as the leader in the embedded analytics industry," Nick Lukens, a principal at Marlin, said in the statement.
"The acquisition of Jinfonet does just that, and with our continued support, Logi will keep delivering innovative solutions to development teams that are building mission-critical applications."
• • •
Pr3vent Raises Seed Round
Pr3vent Inc., a developer of a tool used to detect eye disease in newborns, announced Feb. 12 a $1.5 million Series A following a $500,000 seed investment in October from Trousdale Ventures, of Beverly Hills, and Skyview Ventures, of Century City.
New York-based InFocus Fund led the Series A, according to a statement by Pr3vent Chief Executive Jochen Kumm.
Trousdale and Skyview invested a combined $500,000 in seed money late last year, Kumm said.
Pr3vent is a Palo Alto-based firm that relies on artificial intelligence in its eye screening tool to detect eye disease.
Market research firm Frost & Sullivan predicts the market for healthcare information technology applications using artificial intelligence is likely to reach $1.7 billion by the end of 2019.
Have a deal tip? Pat Maio can be reached at pmaio@labusinessjournal.com or (323) 556-8329.
For reprint and licensing requests for this article, CLICK HERE.