$40M Donation for Carson Center
Sprawling facility will house tennis courts, soccer fields and an academic center
Friday, February 15, 2019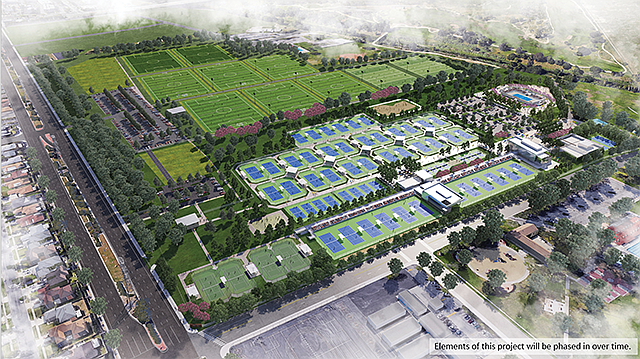 A portion of Los Angeles County-owned Victoria Park golf course in Carson is expected to be transformed into a new sports and education center with a focus on tennis and STEM studies pending completion of a public review process led by the county.
Spearheaded by the Kimmelman Family Foundation, which will donate $40 million toward the complex, the Carol Kimmelman Athletic and Academic Campus is expected to span more than 80 acres and include up to 52 tennis courts, soccer and multipurpose fields, and an academic center focusing on science, technology, engineering and math in partnership with local schools and institutions. Groundbreaking is expected in early 2020.
Partners include the USTA Foundation, the charitable arm of the United States Tennis Association Inc., chaired by Chris Evert, and Irvine-based TGR Foundation, established by Tiger Woods and his late father, Earl Woods, to support health and education for children.
The center is named for the late Carol Kimmelman, a native of Riverside, who was a competitive tennis player at USC and worked as an elementary school teacher in Central Los Angeles. She died of ovarian cancer in 2017.
Her husband, Doug Kimmelman, the president of the foundation and senior partner of New Jersey-based private equity firm Energy Capital Partners, called the project "100 percent Carol … what resonated more than anything in her life was her years of teaching and those kids, finding more opportunity for those kids."
Kimmelman said the project is estimated to cost $60 million to $100 million with ongoing fundraising to cover an annual operating budget of several million dollars. He said the Kimmelman Foundation's $40 million contribution will go toward that total, including construction and operating funds for the center's first few years.
Kimmelman confirmed that USTA entities are collectively contributing approximately $10 million. He declined to disclose the contribution from TGR but called it "significant" and said other corporate sponsors will be providing significant support as well.
For reprint and licensing requests for this article, CLICK HERE.