$180M Manhattan Village Makeover Underway
At revamped shopping plaza, focus on experiential, communal space
Friday, February 15, 2019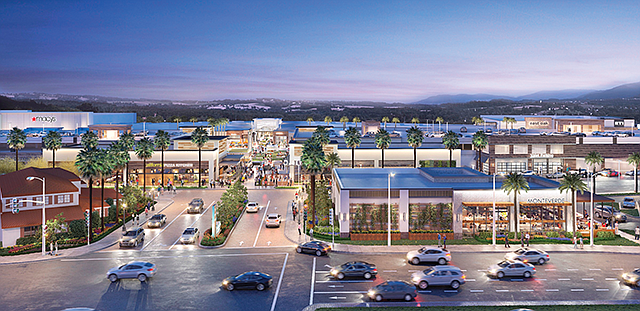 The 1980s-style Manhattan Village mall is getting a major facelift.
The 44-acre site in the tony seaside community of Manhattan Beach is hoping the $180 million investment into the decades-old mall will help it better capitalize on the affluent market. Plans to spruce up the mall are reminiscent of the design used in Rick Caruso's retail projects – including parking structures, common areas, and adding in more open-air shops and restaurants.
The move is part of a decadelong trend to create destination shopping areas heavy on restaurants and where consumers can socialize.
The German asset management firm, DWS Group GmbH & Co. KGaA and Chicago-based developer Jones Lang LaSalle Inc. said last month the 44-acre South Bay site was in the final phase of the redevelopment and was scheduled for completion in the first quarter of 2020.
Don Ziss, senior general manager of the Village, said the plaza was aiming for a beachy, open-air feel. Much of the old mall has already been revamped with a coastal-chic theme, adding common areas replete with an elongated water fountain, a massive modern industrial chandelier and skylights.
One of the two Macy's stores that bookended the indoor mall closed and was replaced by a consolidated department store with 168,000 square feet of space. Ziss said Manhattan Village is looking for more retail and restaurateurs to take space at the plaza.
Cocinas Y Calaveras, which will open a Mercado Manhattan Beach restaurant, signed a lease in October. Joey Manhattan Beach and Urban Plates have also signed leases. But the main feature will be a common area where developers plan on adding landscaping, a clock tower and more seating that can be used down the line for events as retailers move toward creating more experiential shopping.
The center is already home to other top retailers, including Apple, Williams-Sonoma, Pottery Barn, Pottery Barn Kids, Sephora, Victoria's Secret, Tommy Bahama and Kiehl's.
• • •
Rocky relations for Calif. Coca-Cola distributor
One of the country's most powerful unions is trying to change the way you get your Coca-Cola.
The International Brotherhood of Teamsters represents about 2,500 workers at Reyes Holdings, the soft drink giant's main distributor in California. The teamsters union held a call with investors and industry analysts Wednesday charging that changes in distribution methods by the Illinois-based firm have hurt soft drink sales locally as truck routes have been pared back.
The Teamsters surveyed Southern California retailers last year, including Vons, Ralphs, Albertsons, gas stations and 7-Eleven stores to find out how Reyes delivery cut backs had impacted them. The union said the survey showed retail sales were hurt by delivery cutbacks.
Prev Next
For reprint and licensing requests for this article, CLICK HERE.