Intrepid Advises on Sale of Electric Vehicle Maker Artisan
Thursday, February 14, 2019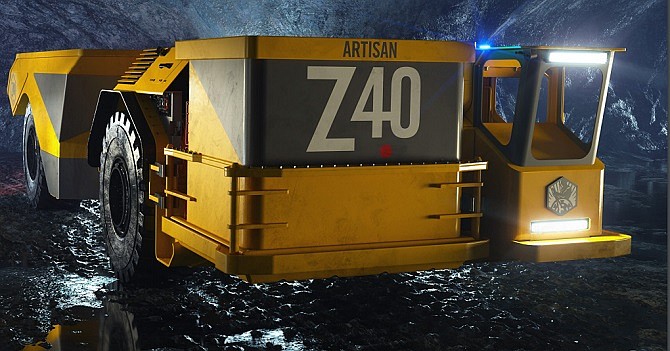 Brentwood-based Intrepid Investment Bankers, a regional middle market investment banking firm, advised on this month's sale of Camarillo, Calif.-based Artisan Vehicle Systems Inc., a zero-emission electric battery-powered equipment manufacturer.
The $12.3 million in annual revenue Artisan was purchased by Sandvik, a global engineering group based in Sweden.
Terms of the transaction were not disclosed.
Artisan is one of a handful of companies that build ground-up battery-powered electric vehicles—rather than retrofitting existing diesel-powered vehicles with battery power—for mining gold, silver, and platinum, in mile-deep underground mines, according to Jonathan Zucker, managing director and head of capital markets for Intrepid.
The battery electric vehicles for underground mining is a nascent industry, similar to what Tesla did in the passenger car business when it began to make cars lighter and more powerful in addition to battery-powered, explained Zucker in an interview.
Artisan builds two kinds of vehicles, including loaders that haul four metric tons of material out of the ground, and haulers, which can carry up to 40 metric tons. The vehicles are sold to mine operators in Australia, Canada, South Africa, and ore-rich regions in the world, Zucker said.
Intrepid was bought last October by San Francisco-based MUFG Union Bank as part of a new line of business for Union Bank. MUFG Union Bank, which is the U.S. banking arm of Japanese holding company Mitsubishi UFJ Financial Group Inc., has 355 branches in the U.S. West.
Artisan initially hired Intrepid a year ago to help the manufacturer raise capital. As Intrepid began pitching equity investors to help raise additional capital, senior management with the privately held Artisan decided to entertain a possible sale, Zucker said.
The company, which employs roughly 60, concluded that its vision to transform the industry would take far too much capital to do on its own, so Intrepid expanded its marketing efforts to talk to strategic players about making an investment, Zucker explained.
"As we started going down that road, it became clear that to accelerate growth would require not only capital but also additional infrastructure and a global reach," Zucker said.
Finance reporter Pat Maio can be reached at pmaio@labusinessjournal.com or (323) 556-8329.
For reprint and licensing requests for this article, CLICK HERE.