Family Ties Bind Bank
FINANCE: Farmers & Merchants maintains growth
Friday, February 8, 2019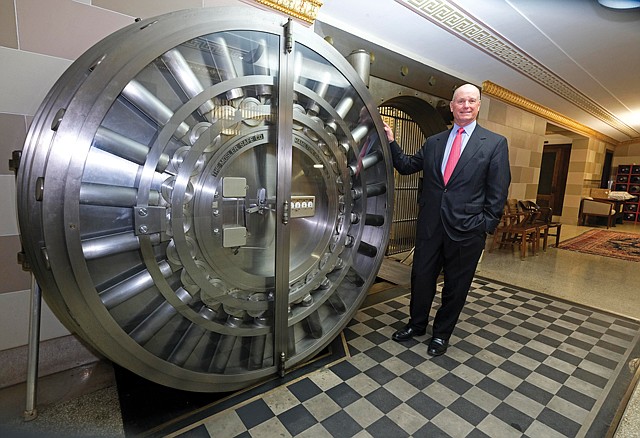 Farmers & Merchants Bank of Long Beach could be among the last community banks to survive the rise of commercial financial institutions and the transition from Main Street to Wall Street.
Stepping into the bank's main branch, which opened on Long Beach's Pine Avenue in 1922, feels like a bit of a time-warp with the original brass doors and teller cages still in place.
Run by the Walker family – now a fifth-generation operation – the bank has nearly tripled its assets over the last two decades under the stewardship of Daniel Walker, the bank's 64-year-old fourth-generation chairman and chief executive. The bank was No. 7 on the Business Journal's 2018 list of largest banks headquartered in Los Angeles County with $7.3 billion in assets, up from $2.3 billion when Walker took the reigns from his father, Kenneth Walker.
Walker said in an interview that there's no great secret to the bank's longevity, just a commitment to customer service and a conservative growth plan that has put a premium on return on assets and dividend payouts to shareholders.
Farmers & Merchants, unlike many other banking institutions, has also avoided growing through acquisitive moves – its last purchase of a competitor came in 1985 when it bought out insolvent Capistrano National Bank and took over Town & Country Bank in Seal Beach; the bank's only other acquisition happened in 1936.
"It just hasn't been our strategy," Walker said.
Alfred Osborne Jr., interim dean and professor at UCLA's Anderson School of Management, said of Farmers & Merchants' ability to survive 112 years through five generations of ownership speaks volumes.
"If the family is happy with organic growth, there's no need to expose the bank to investors outside of the bank," Osborne said. "Steady as she goes is what a lot of people prefer, and stay below the radar. To sell is unconscionable. It would violate a sacred trust that they have developed over generations in the communities it serves."
Strong performance
Founded in 1907, Farmers & Merchants is mainly a commercial real estate lender. It is publicly – if thinly – traded with 130,928 shares owned by roughly 1,500 shareholders. The stock was trading at about $8,000 in early February, and the extended Walker family still owns a majority stake.
In December, the bank paid its 500th consecutive quarterly and special dividends, a streak that dates back to 1916. For each share, the bank paid $27 in December, plus a special one-time dividend of $25.
Prev Next
For reprint and licensing requests for this article, CLICK HERE.