SOUTHLAND DRIVE
C.W. Driver Cos. celebrates year 100 in Los Angeles
Friday, February 1, 2019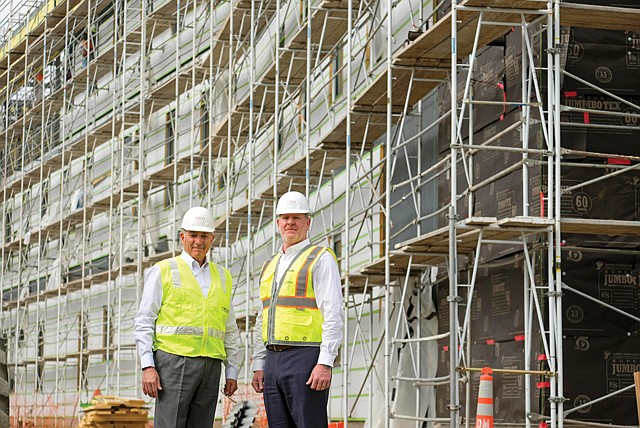 Pasadena construction contractor C.W. Driver Cos. spends its time building shiny new structures, but the company itself has achieved a pair of historical milestones: This year, it turns 100, and it claims to be "the oldest active licensed builder headquartered in Southern California."
And unlike many other construction companies that seek a national or global reach on their own or through mergers, C.W. Driver has for its entire existence stayed almost exclusively focused on its own backyard − the Southern California market.
"We've watched over the years as our competitors have expanded nationwide only to shrink back when times turn rough," said Chief Executive Dana Roberts. "But we have felt all along that the six-county area of Southern California is big enough and dense enough to keep us in business for a long, long time."
That focus on Southern California has allowed C.W. Driver to leave its impact on the local landscape over the decades, including with such projects as the historic Warner Bros. Theatre in downtown's Jewelry District, the Beverly Hills Presbyterian Church, an extension to the original Southern California Gas Co. building in downtown's Historic Core and the Jonathan Club's Beach Club in Santa Monica.
These days, C.W. Driver has developed a specialty of buildings on academic campuses, from the Younes and Soraya Nazarian Center for the Performing Arts at Cal State Northridge to the just-completed Student Services Center at Cal Poly Pomona and the science building now under construction at Cal State Dominguez Hills.
Another specialty is the entertainment sector: C.W. Driver has done work on the Sony Pictures Studios Inc. lot in Culver City, the NBCUniversal's lot and adjacent CityWalk in Universal City, and Netflix Inc.'s campus in West Hollywood.
Overall, the privately owned company reported $647 million in revenue last year and has roughly 350 employees in seven offices throughout the state (six in Southern California and a small office in San Jose). The company has 55 projects in preconstruction or under construction; about 80 percent of the work is on new construction, with the other 20 percent consisting mostly of remodeling and renovation work.
Independent streak
Given its size and the lucrative market it serves, C.W. Driver would appear to be an attractive takeover target. But Roberts said the company had rejected a couple offers from international companies over the last 30 years, saying he did not want to sell to an international firm. And, he said, there are no plans to put the company on the market anytime soon or to go on an acquisition spree; in fact, he said, the company plans to turn over ownership in coming years to roughly two dozen of the firm's top executives.
For reprint and licensing requests for this article, CLICK HERE.
Prev Next