BROADWAY BLOOM
Can downtown's Broadway recapture its retail glory?
Friday, February 1, 2019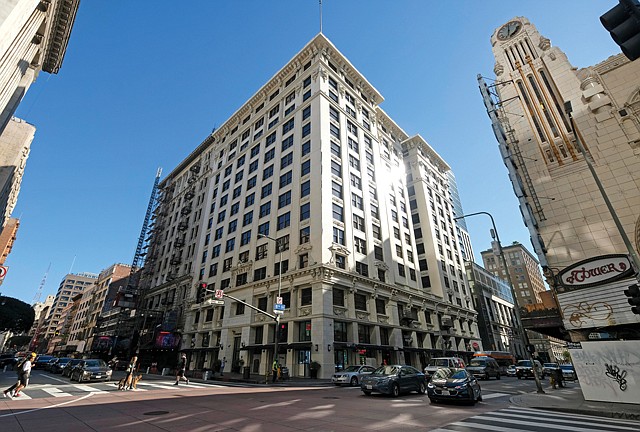 A mini-retail revolution is unfolding along a once grimy stretch of Broadway downtown where a half-dozen big-name retailers recently opened up shop or are planning to in the coming year.
The headliner is Apple Inc., which is taking over the historic Tower Theatre for a new flagship Los Angeles store. But shoemaker Vans Inc. is also set to open in 2019, and brokers said luxury apparel firm Paul Smith Ltd., is poised to come to the historic area between 8th and 9th streets.
The designer did not respond to request for comment.
The influx of high-profile brands to Broadway signals how brokers, developers and owners are trying to curate the street with upscale, niche brands. In turn, those brands are using the space to emphasize in-store experiences, a shift in approach for retailers.
"It's the most bullish market in the country," said Andrew Turf, senior vice president of high street retail at CBRE Group Inc., which has helped ink several retail leases on Broadway.
Rising retail rents in New York City and the upcoming Olympic Games in Los Angeles have added to the location's allure for retailers, he said. And there's about to be a lot more available stock with the under-construction Broadway Trade Center and its 200,000 square feet of retail space marketed for luxury brands.
The retail buzz is amplified by two chic hotel developments, the Hoxton and the Proper Hotel, which are set to open this summer a block away from the Broadway retail epicenter.
Experiential play
In the age of next-day delivery and shuttering department stores, the move by brands to invest in outlets downtown may seem counterintuitive. But with its historic buildings and a sea of young, wealthy professionals nearby, Broadway offers retailers an emotional connection that's hard to replicate in malls or online, according to Anthony Dukes, a USC marketing professor.
West Elm, an arm of Williams-Sonoma Inc., opened late last year on the ground floor of developer Geoffrey Palmer's Broadway Palace apartment building, offering pop-ups and workshops by local artists and businesses. A few blocks away in the former Schaber's Cafeteria is Nike Inc.'s Jumpman LA, billed as an "experience hub for athletes, creatives" that showcases the company's Jordan brand. The 25,000-square-foot, two-story storefront comes replete with a rooftop basketball court.
"There is a movement toward experiential shopping that you see around the country," Dukes said. "Online retailing has created a transition."  
Prev Next
For reprint and licensing requests for this article, CLICK HERE.