BROADWAY BLOOM
Can downtown's Broadway recapture its retail glory?
Friday, February 1, 2019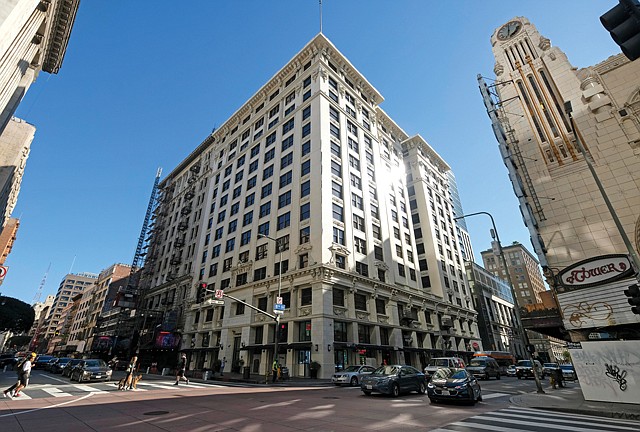 A mini-retail revolution is unfolding along a once grimy stretch of Broadway downtown where a half-dozen big-name retailers recently opened up shop or are planning to in the coming year.
The headliner is Apple Inc., which is taking over the historic Tower Theatre for a new flagship Los Angeles store. But shoemaker Vans Inc. is also set to open in 2019, and brokers said luxury apparel firm Paul Smith Ltd., is poised to come to the historic area between 8th and 9th streets.
The designer did not respond to request for comment.
The influx of high-profile brands to Broadway signals how brokers, developers and owners are trying to curate the street with upscale, niche brands. In turn, those brands are using the space to emphasize in-store experiences, a shift in approach for retailers.
"It's the most bullish market in the country," said Andrew Turf, senior vice president of high street retail at CBRE Group Inc., which has helped ink several retail leases on Broadway.
Rising retail rents in New York City and the upcoming Olympic Games in Los Angeles have added to the location's allure for retailers, he said. And there's about to be a lot more available stock with the under-construction Broadway Trade Center and its 200,000 square feet of retail space marketed for luxury brands.
The retail buzz is amplified by two chic hotel developments, the Hoxton and the Proper Hotel, which are set to open this summer a block away from the Broadway retail epicenter.
Experiential play
In the age of next-day delivery and shuttering department stores, the move by brands to invest in outlets downtown may seem counterintuitive. But with its historic buildings and a sea of young, wealthy professionals nearby, Broadway offers retailers an emotional connection that's hard to replicate in malls or online, according to Anthony Dukes, a USC marketing professor.
West Elm, an arm of Williams-Sonoma Inc., opened late last year on the ground floor of developer Geoffrey Palmer's Broadway Palace apartment building, offering pop-ups and workshops by local artists and businesses. A few blocks away in the former Schaber's Cafeteria is Nike Inc.'s Jumpman LA, billed as an "experience hub for athletes, creatives" that showcases the company's Jordan brand. The 25,000-square-foot, two-story storefront comes replete with a rooftop basketball court.
"There is a movement toward experiential shopping that you see around the country," Dukes said. "Online retailing has created a transition."  
Downtown players are trying to take advantage and return Broadway, home to the city's premier shopping destinations through the 1930s and 1940s, to its glory days. And demand for space in the corridor – along with hundreds of millions of dollars in building renovations – have helped double and sometimes triple rents in the last five years, according to brokers.
Despite the price surge, the area still appeals to retailers that are drawn to the area's changing demographics, which are skewing toward professionals with disposable income. A typical downtown resident is a single, 38-year-old woman who earns $98,000, according to 2017 survey by the Downtown Center Business Improvement District.
Brand appeal
"This is what I would say is a massive transformation," said Steve Needleman, owner of Anjac Fashion Buildings, a portfolio of real estate holdings started in the 1970s by his late father, a garment manufacturer. Needleman owns five buildings along the stretch with a total of 30,000 square feet of retail and 500,000 square feet of residential and office space. He's turned down retailers offering high rents.
"I am a little bit more picky rather than just looking at the strict economics," he said.
"Vans is the perfect example," Needleman added. "It was bringing something to the table, like Apple; both of them have a concept of a social gathering space. A place where retail, it's a social experience, it's not just facing merchandise on the shelf."
Costa Mesa-based Vans ultimately made the cut and will take over approximately 8,700 square feet at the Anjac-owned Old Singer Sewing Building at 806 S. Broadway. The company wouldn't provide details about its store plans, but Apple, which is planning on restoring the Tower Theatre, has embraced a strategy of creating "modern-day town squares" in stores. Needleman's other recently signed tenant, Korea-based eyeglass designer Gentle Monster, is known for its surreal, sometimes immersive art exhibits.
Shopping mecca
Broadway's bloom has been a long time coming, but it hasn't been without bumps in the road. Since 2008, the revitalization of Broadway's retail corridor and historic theaters has been part of a relentless redevelopment campaign, Bringing Back Broadway, by Councilman Jose Huizar. The program is dormant, and after FBI agents raided Huizar's office last year as part of a probe into City Hall's fundraising from downtown developers, there's no indication it will be revived. Night on Broadway, a weekend event put on by Huizar's office, was canceled this year after the raid. But the momentum remains underway.
Many trace the retail boom to the Ace Hotel's 2014 opening. The trendy hotel in the former United Artists Building spurred a small surge of boutique shops in large part thanks to the work of Tungsten Properties Ltd., a brokerage that reshaped the neighborhood by bringing in retailers like Aesop and OAK.
Then-retail development director for Tungsten, Jonathan Schley, who is now at CBRE, said there was an idea then that L.A. is so massive you need to give people a reason to show up.
"We are trying to keep Broadway real," Turf said. "We don't want to see mall brands on Broadway."
For reprint and licensing requests for this article, CLICK HERE.