APM Setback in Automation Quest
PORTS: Terminal upgrade permit pulled amid labor strife
Friday, February 1, 2019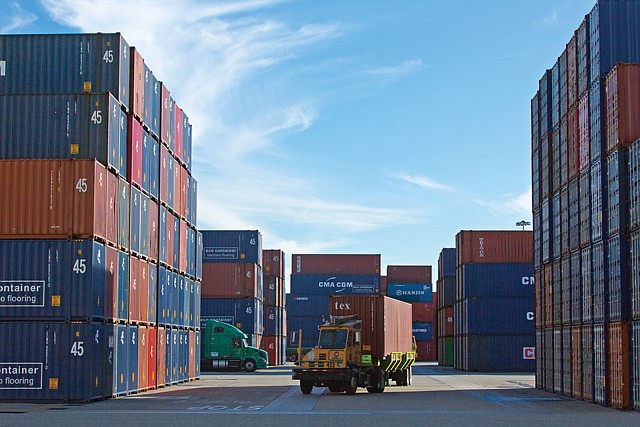 Port of Los Angeles terminal operator APM Terminals, a subsidiary of Danish shipping and oil conglomerate A.P. Moeller - Maersk, has been working for more than a year on a plan to place autonomous freight-carrying vehicles on Pier 400.
That plan is now on hold.
The effort hit a snag last month when Port of Los Angeles Executive Director Gene Seroka pulled the company's permit request for the project from the city's Jan. 24 harbor commission meeting amid protests from dozens of union workers. The protest stemmed from what labor sees as a push to eliminate high-paying jobs at the terminal. APM has pitched the move as a way to help it meet strict state clean air standards.
The automated freight-vehicle program would roll out in phases and take three years, said Tom Boyd, an APM Terminals spokesman. The company would not disclose the cost, noting it was not seeking any public funds.
The push by APM is part of a larger move toward automation at both the Port of Los Angeles and the Port of Long Beach. A Los Angeles terminal owned by TraPac Inc., a subsidiary of Japanese shipping company Mitsui OSK Lines Ltd. is almost fully automated. Construction is ongoing at a $1.5 billion fully automated terminal in Long Beach run by Long Beach Container Terminal Inc. The terminal – which is currently held in a U.S.-run trust as Chinese state-run Cosco Shipping Holdings Co. Ltd. seeks to sell it – will be fully operational by 2022.
Terminal operators at both ports are working to keep up with other points of entry around the world as the shipping industry undergoes rapid transformation.
"The ports across the world are transforming at a much faster rate." said Nick Vyas, director of USC's Center for Global Supply Chain Management. "It's rapid, it's frequent, and its disruption. Unions will have to reconcile with it and create future new jobs instead of resisting."
Mounting dispute
Although the Los Angeles port clocked a record-breaking year, officials are under immense pressure to upgrade the facilities to keep up with competition and starkly reduce pollution. Los Angeles Mayor Eric Garcetti and Long Beach Mayor Robert Garcia set a goal as part of a clean air plan to use all zero-emission cargo handling technology by 2030.
"The automation that we are going to do is in line with the clean air action plan," John Ochs, APM Terminal's senior director of West Coast labor and regulatory affairs, told union leaders at the harbor commission meeting last month. "But I am not hiding in the back of the action with the labor savings that we are seeking to get."
For reprint and licensing requests for this article, CLICK HERE.
Prev Next