LAX Passenger Traffic Down 3% in November as Slide Spreads to Domestic Travel
Originally published December 27, 2019 at 5:06 p.m., updated January 2, 2020 at 7:37 p.m.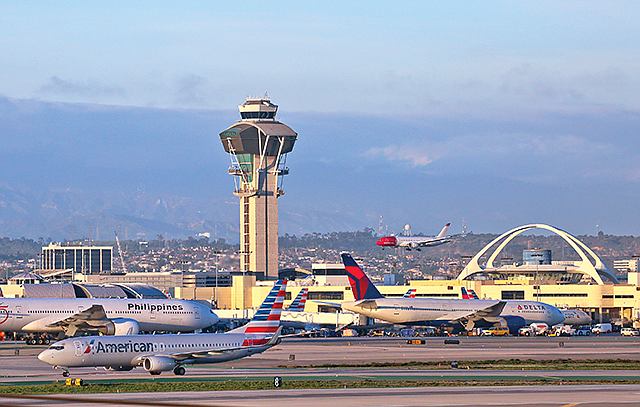 November passenger traffic at Los Angeles International Airport fell 3% from the same period a year earlier as the monthslong decline in international passenger traffic spread to domestic travel.
According to figures released Dec. 26 by Los Angeles World Airports, LAX saw a drop of 212,000 passengers in November to 6.7 million compared to November 2018.
Domestic passenger traffic for the month fell by 136,000, or 2.7%, to 4.85 million while international traffic declined by 76,000, or 3.8%, to 1.88 million.
For the first 11 months of this year, total passenger traffic rose 0.3% to 80.6 million.
According to a LAWA representative, a fluke in the calendar was the main reason for the falloff in domestic passenger traffic. The Sunday that closes out the Thanksgiving holiday weekend fell on Dec. 1 this year and will be counted toward the December total.
Domestic passenger traffic from January to November rose 1.2% to 57 million, while international traffic fell 1.6%, to 23.6 million, during the period. These growth rates are all lower than the comparable period in recent years.
The falloff in passenger traffic coincided with long waits for passengers and negative publicity from the airport's October ban on curbside pickup for ride-hailing services. That change forced all ride-hail passengers to a remote lot near the Southwest Airlines Co. terminal.
For the first week, passengers using that remote lot experienced long waits for their rides and expressed their frustration to news outlets. In response, airport officials doubled the size of the lot and brought in extra shuttles, which eased the congestion.
It was unclear whether the initial chaos surrounding the curbside ride-share ban led people to use other local airports or cancel trips altogether.
Air cargo tonnage at LAX continued its slide in November amid ongoing fallout from the U.S.-China trade war, dropping 6.5% in November to just under 200,000 compared to November 2018.
For the first 11 months, air cargo tonnage at the airport was down 5.7% to 2.1 million tons compared to the same period last year.
The easing of trade tensions in late November into December may impact the December figures.
The picture was quite different at Ontario International Airport, the only other commercial airport in the region to report November figures so far.
November passenger traffic at Ontario jumped 10% from November 2018 levels to reach nearly 502,000 passengers, according to the Ontario International Airport Authority. Domestic passenger traffic rose 10.1% to 475,000, while international traffic rose nearly 9% to 26,000.
For the first 11 months of the year, passenger traffic was up 8.4% to nearly 5.1 million compared to the same period last year. Domestic traffic rose 7.2% to 4.8 million while international traffic surged 35% to 274,000. The airport's first nonstop transoceanic flights to Asia started last year with service on Taipei, Taiwan-based China Air Lines.
Air cargo tonnage at Ontario International Airport rose in November, increasing by 4.2% to 67,657 tons. For the first 11 months of this year, air cargo was up 2.5% to 692,933 tons.
Healthcare/biomed, energy, engineering/construction and infrastructure reporter Howard Fine can be reached at hfine@labusinessjournal.com. Follow him on Twitter @howardafine.
For reprint and licensing requests for this article, CLICK HERE.