Neuman: At the Intersection of Land and Law
Real Estate: Chamber chair looks to help homeless
Friday, December 20, 2019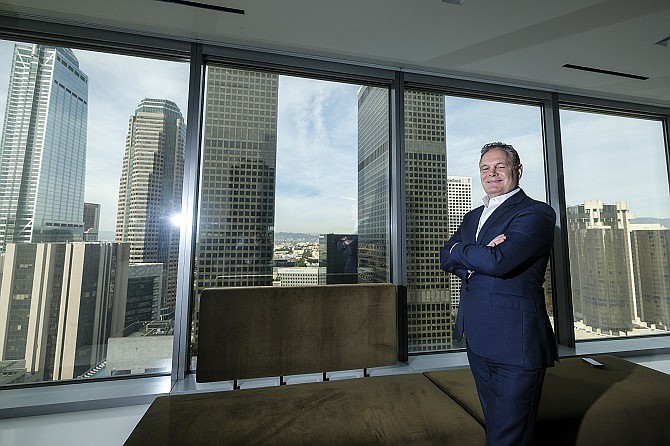 Jerold "Jerry" Neuman is well-known in the L.A. business community for a variety of positive reasons.
A partner at law firm DLA Piper and chairman of the Los Angeles Area Chamber of Commerce, Neuman also holds board positions with organizations focused on combatting homelessness, including Hollywood Community Housing, Home for Good and United Way of Greater Los Angeles.
One of the leading attorneys in the state on land-use, environmental and government law, Neuman has played a key role in several high-profile projects across Southern California, including the Hollywood and Highland Center.
He sat down with the Business Journal to discuss the intersection of real estate and law, efforts to reduce the city's homeless crisis, and new directions at the Chamber of Commerce.
Here are five takeaways from that conversation.
Where policy meets development
Neuman didn't always want to go into law.
His parents were immigrants who stressed the importance of education, and in college he developed an interest in politics.
"I started thinking about where that would lead and how politics revolved around law," Neuman said. "I never thought I would practice as long as I did. I was interested in the crossroads of politics and law."
Neuman specializes in land-use law, which he said is where public policy meets real estate development.
"It captured me and has kept my interest for 32 years," he said.
Neuman's father, a mechanic, invested in real estate. "The idea of something tangible that you can make something out of and never goes away became important to me," Neumann said
Attraction of opportunity zones
Opportunity zones, a part of the Tax Cuts and Jobs Act, became law Dec. 22, 2017. The program provides tax benefits to investors, allowing them to defer capital gains taxes if the money is invested in opportunity zone funds.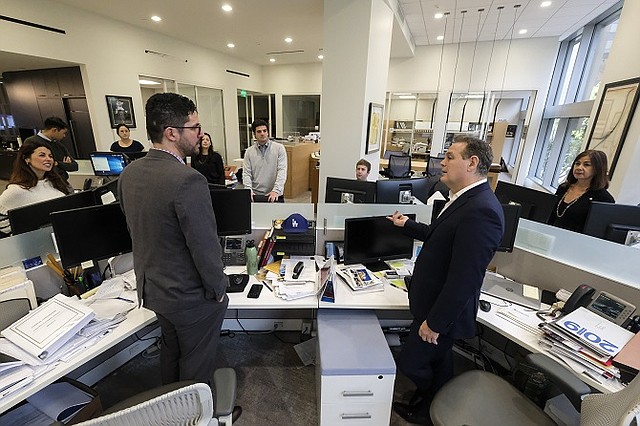 The federal tax incentive is aimed at encouraging investment in economically distressed areas. Neuman has seen extensive interest in the program.
"We have a number of clients who are looking at the opportunity zone projects almost exclusively," Neuman said. "I think they are sweetening the pots on deals, but the market here is still hot enough that they are not the driver in Los Angeles on the deals being consummated.
"I think they are the thing that could, if there's an impasse in a deal, make a difference. It's going to allow certain other areas of Los Angeles to see an increase in deal transaction."
A growing bureaucracy
In more than 30 years of practicing law, Neuman has noticed some big changes.
In L.A., he said, one of the most important has been the "evolution of the bureaucracy as a decision-maker.
"When I first started practicing, the City Council member and the public official was a driver in decision-making. They would really talk to you about what was the project they were looking for, what they needed to see in their community and what they wanted to support," Neuman said.
"As time has gone on, what you find is that the elected officials are no longer making these decisions. The only voice that is being heard in the decision-making process is that of the bureaucrat," he added. "The power rests in the hands of a few people who are not accountable to anybody."
New direction for Chamber
Neuman, who stepped into a leadership role as chairman at the L.A. Chamber of Commerce in January, has shifted the direction of the organization.
"There's a sense among more progressive institutions or establishments that the Chamber in the last year has sort of moved to the right," he said. "I think that is an inaccurate statement. What's really happened is the chamber has moved from the center a little bit to the left.
"It's always been involved in the social context. It's always been involved in homelessness as a major issue. Education — we've been engaged in education forever and continue to be."
He also wants to battle government inefficacies and, he said, "fight against issues where there isn't transparency in government spending."
Neuman said the group is trying to hold the government accountable. "Oversight is going to be important, and when those things don't exist," he said, "we're going to stand against them. That hasn't happened as strongly as it's happened in the last year."
Over the next few years, Neuman hopes the chamber will "play a much stronger, more forceful role in advocacy, to be bold in its decision-making, to engage in issues in a way that really represents a consolidated voice of business for the region. The chamber is going to be more outward looking."
Working for the homeless
One of the major issues for the Chamber of Commerce and other groups Neuman works with is homelessness.
The homeless population is now more than 36,000 in the city and 59,000 in the county, up 16% and 12%, respectively, from 2018, according to the Los Angeles Homeless Services Authority.
Home for Good, a group Neuman chairs, helped gain recognition for homelessness as a social, political and economic issue, and created what he calls "the first comprehensive, actionable plan developed around homelessness in the region."
Neuman is also chairman of Hollywood Community Housing, which he has served with for 20 years. The group develops affordable and low-income housing for the homeless or people with other hardships.
In the next 15 months, the group will develop 1,500 units, he said.
"We've expanded from the Hollywood area throughout L.A. County. We have complexes from El Monte to Compton, from Hollywood to South L.A.," Neuman said. "We're looking at the Valley now."
For reprint and licensing requests for this article, CLICK HERE.