Analysts Surprised by Exec Departures at Green Dot
CEO Streit and CFO leave fintech company
Originally published December 20, 2019 at 11:20 a.m., updated January 3, 2020 at 2 p.m.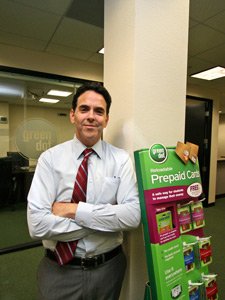 Green Dot Corp. founder and Chief Executive Steve Streit has stepped down after 20 years at the helm, and Chief Financial Officer Mark Shifke retired concurrently, effective Dec. 31.
In a statement, Streit appeared to attribute the move to the Pasadena-based company's 20-year anniversary, which he had set as a benchmark with his family for retirement.
Streit said the financial technology company's board had established a search committee and retained an executive recruiter earlier in the year as part of routine succession planning.
"It is my belief that the recruiter now has the opportunity to be even more productive with my retirement public," Streit said.
Streit's departure comes three years after the Green Dot founder survived an activist investor effort to oust him from the company.
In 2016, San Francisco-based investment firm Harvest Capital Strategies called on shareholders to fire Streit, claiming he had mismanaged the company. Streit survived the subsequent vote, but two other board members were replaced with Harvest nominees.
Streit will retain a role with Green Dot as chief innovation officer and as an independent adviser.
Green Dot Chairman William Jacobs will act as interim CEO while audit committee chairman J. Christopher Brewster will serve as interim president. Jess Unruh, operational chief financial officer and chief accounting officer, will serve as interim CFO.
The departures surprised many analysts, given the abrupt nature of the announcement Dec. 20 and the top-ranking executives involved.
"We expect the sudden retirements to weigh on GDOT shares over the near term," wrote Steven Kwok, an analyst with investment bank Keefe Bruyette & Woods Inc., in a report published shortly after the announcement. "It will likely raise questions around the health of the business and progress around growing active accounts."
The number of active accounts in Green Dot's prepaid debit card business — its main revenue generator — fell to 5.18 million in the third quarter, a drop of roughly 250,000 from the same period in 2018. It was the second consecutive quarter of year-over-year declines.
Although the company described Streit and Shifke's retirements as part of an "orderly management succession," falling profits and recent cuts to Green Dot's earnings guidance have spooked investors.
The company posted a net loss of $500,000 in its third quarter this year, compared to a profit of $4.6 million in the same period a year earlier. Per-share losses were $0.01, down 113% year over year.
Green Dot, a fintech pioneer, has faced stiff competition in recent years from a host of upstart neobanks such as San Francisco-based Chime Financial Inc. and Marina Del Rey-based Aspiration Partners Inc., as well as digital payment services like Venmo and Cash App.
Despite their reputation for targeting digitally savvy millennials, many of these companies have attracted significant numbers of unbanked and underbanked customers. This has eaten into Green Dot's core client base for its flagship prepaid debit card products.
In response to increased competition, Green Dot has ramped up marketing efforts, further eroding profits. The company launched new products such as its Unlimited Cash Back Account, which combines the features of a high-yield savings account and a cash-back debit card. It also increased the emphasis on its platform-as-a-service business.
Uber Technologies Inc.'s Visa debit card, used to pay drivers, Walmart Inc.'s Money Card, and Apple Inc.'s Apple Pay all use Green Dot technology.
Despite the near-term slump in investor sentiment, Keefe Bruyette & Woods' Kwok was somewhat optimistic on the prospect of new leadership at Green Dot.
"A new management team could help improve the growth trajectory of the business over the medium to long term," he wrote.
Banking and finance reporter James B. Cutchin can be reached at jcutchin@labusinessjournal.com or (323) 556-8332. Follow him on Instagram or Twitter @jamesbcutchin.
For reprint and licensing requests for this article, CLICK HERE.