BAM Ventures Makes Its Mark
Tech: VC firm backs big and small LA startups
Friday, December 20, 2019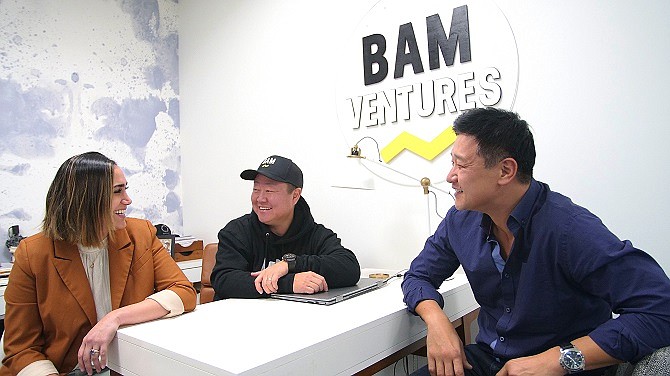 After several years of investing quietly, BAM Ventures is making some noise.
The Sawtelle-based venture capital firm generated headlines in November with its largest exit to date when Mid-Wilshire-based ecommerce software developer Honey Science Corp. was sold to Paypal Holdings Inc. for $4 billion.
"We've been under the radar by design, and now as we approach raising another fund, we need to be more front and center in terms of announcing what we do," BAM Managing Partner Richard Jun said.
Honey was BAM's first major exit since its founding in 2014. The company plans to build on that momentum.
"We see some of the best deal flow because we're operators, and we have experience running companies," Jun said of the firm's activity to date.
Origin story
Jun and his co-founder, Brian Lee, whom Jun calls "a great gauge of what it takes to be a great entrepreneur," formed BAM after several years of investing as individuals.
"We started BAM because we had a lot of friends here in L.A. looking to start up their own companies," Jun said. "They came to us for advice and left with advice and funding. Because we were involved with so many great companies already, we figured we'd put that to platform and become a fund."

While BAM cuts checks for companies nationwide, it relies heavily on Los Angeles' startup ecosystem.
"BAM Ventures is all about Los Angeles," Jun said. "Every unicorn in L.A., we're either investor or operators (in), or we sit on the board of it."
Jun added, "It's an exciting time to be an investor in L.A., and everyone works so collaboratively with each other." He said BAM often co-invests with local firms, including Santa Monica-based Crosscut Ventures and Beverly Hills-headquartered Machine Shop Ventures.
With a $16 million second fund to back early stage startups and plans to raise a third, BAM is well-capitalized to continue its work.
"We are still actively deploying out of Fund 2," said Jun, adding that a third fund raise is "on the horizon," with BAM planning to market it sometime next year.
"Our strategy of investing early and getting value for leaning in, with real tangible operational support, does not require us to raise a mega-fund," Jun said. "While I think our track record as operators, and now as investors, has gotten the attention of larger institutional players, we don't want to deviate from our strategy of value-investing early on."
Pot of Honey
Honey was one of the fund's first checks and gained BAM "a 300x multiple off of that investment alone," Jun said. But since then, BAM has backed a handful of upstart consumer brands and enterprise-focused businesses.
The firm considers itself industry-agnostic, funding a range of companies including downtown-based Seventh Spark Co., which develops a "mobile worship" application for churches and JRSK Inc., a luggage company that does business as Away.
New York-based Away was founded in 2015 by Stephanie Korey and Jennifer Rubio, who met while working at Jand Inc., better known as eyewear brand Warby Parker. Their company has raised $181 million in venture funding to date from investors including BAM, and in May it was valued at $1.4 billion.
BAM has also funded local firms Thrive Market, a Marina del Rey-based online grocery shopping platform, and Vyng Inc., a video ringtone developer in Venice.
Each company BAM backs gets more than just a check; it also gains valuable mentorship from seasoned company operators.
"Nowadays, seed money is so prevalent that if you are a good founder (or) company, it really isn't that difficult to raise," Jun said. "But if you think about it, building a company that scales requires real technical knowledge."
BAM also has its hand in esports through esports gaming application developer Upcomer Inc., based in Sawtelle, which has raised $2.6 million to date. Launched two years ago, Upcomer's application aggregates esports videos, news and other content for fans.
BAM also backed an early venture round of Culver City-based esports team operator Immortals in October 2017.
On the enterprise side, BAM has cut checks for Santa Monica-based health care credentialing software firm Silversheet Inc. and Sawtelle-based SSB Legal Technologies, which makes a legal analysis platform called Gavelytics.
"While we look for great founders anywhere, L.A. is our home base and we have an amazing portfolio of L.A. companies," Jun said, adding, "These are all companies driven by some of the best founders in town."

For reprint and licensing requests for this article, CLICK HERE.