RBC Nabs $7.5 Billion LA Wealth Management Team
Tuesday, December 17, 2019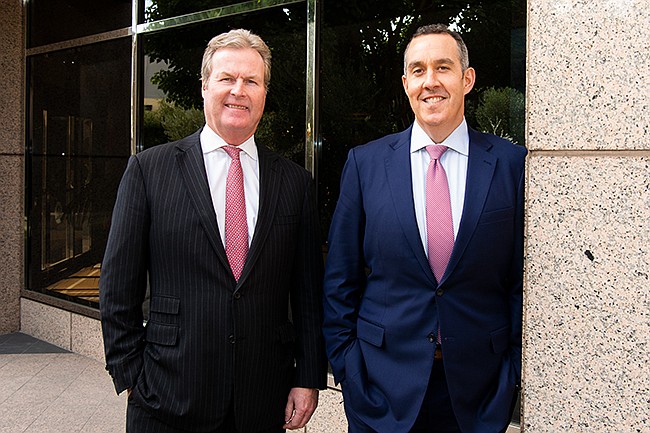 A team of L.A. financial advisors that manages approximately $7.5 billion in assets has joined RBC Wealth Management U.S.
The six-person team, which was recruited from competitor UBS, is led by industry veterans Roger Stephens and Daniel Rothenberg.
Other members of the team are Senior Business Associate Michelle Hadi, Senior Financial Associate Grace Kim, Senior Registered Client Associate Robin Kim and Investment Associate Akiva Glazerson.
The team is currently in the process of transitioning existing clients to RBC.
Michael Melton, who leads RBC's Southern California wealth management practice, declined to comment on the status of the transfer. He noted, however, that these transitions typically take about 60 days and that his company was "very pleased with the success to date."
The hires will form the basis for a new RBC Wealth Management office at City National Plaza downtown. They will work with City National Bank to add full-service banking capabilities to their existing wealth management products.
Melton said RBC Wealth Management's relatively small size and more flexible culture were key factors in the decision by Stephens and Rothenberg to come on board.
In a statement, Rothenberg said core advantages behind the move were RBC's "boutique feel" and the flexibility to run his business as he saw fit.
Both Melton and Rothenberg said RBC's close relationship with City National Bank also played an important role.
RBC Wealth Management, a division of RBC Capital Markets, shares a parent company with City National. Royal Bank of Canada acquired City National, the largest L.A.-based bank, in 2015.
"Our collaboration with RBC Wealth Management has really started to take off — and there's so much more we can do," said Gwen Miller, executive vice president at City National Bank responsible for RBC Banking Solutions, in a statement provided to the Business Journal.
"Our partnership with RBC Wealth allows both businesses to gather a deeper understanding of a client's financial needs, and it helps us serve our clients better in the long run," she added.
RBC Wealth Management's new downtown office will be its seventh in Los Angeles County. Other locations include Beverly Hills, Century City, Pasadena, Manhattan Beach, Long Beach and Palos Verdes. The organization's network of 1,900 financial advisers manages $389 billion in client assets across 42 states.
Melton said his company intends to continue to expand its Los Angeles office by adding more advisers in the near future.
The recently recruited team is currently working from Pasadena while waiting for construction to be completed on its downtown office. Melton said he expects the team to occupy a temporary space in City National Plaza after Jan. 1 before moving into permanent offices later in 2020.
Banking and finance reporter James B. Cutchin can be reached at jcutchin@labusinessjournal.com or (323) 556-8332. Follow him on Instagram or Twitter @jamesbcutchin.
For reprint and licensing requests for this article, CLICK HERE.