Zillow Rolls Out Home Buying Service in LA
Company joins Redfin, Opendoor in iBuying market
Friday, December 13, 2019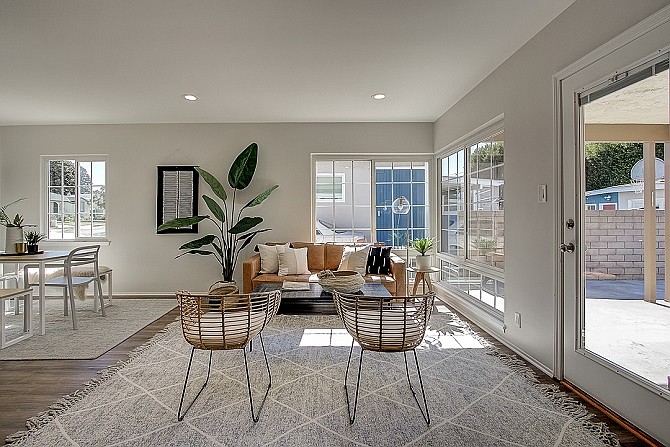 Zillow Group Inc., the real estate database giant, has become a Southern California real estate buyer.
The company this month rolled out Zillow Offers, a service that allows homeowners to sell their homes to Zillow.
Zillow Offers, which launched in Phoenix 19 months ago, is now in 221 markets. In December, L.A. became its largest market.
Zillow's pitch is that it gives sellers more control over when they sell and their close date. It also allows them to sell without having to fix up the home.
Here's how the service works: Interested homeowners put their address into the Zillow website or app and answer a series of questions. The company then sends the seller a preliminary cash offer in as little as two days. A Zillow representative inspects the property in person.
Once Zillow purchases a property, the company makes home repairs and updates. Local brokers represent the company in each transaction.
"We know how difficult and stressful it can be to sell a home, so we are rebuilding the experience of buying and selling a home to make it a much simpler, smoother process," Jeremy Wacksman, Zillow brand president, said in a statement.
Zillow isn't the only real estate database company expanding its reach in L.A.
Opendoor Labs Inc. and Redfin Corp. started iBuying operations in L.A. earlier this year.
Quinn Hawkins, head of RedfinNow, the company's iBuying service, said the group has purchased more than $200 million worth of homes in California.
Lots of buyers looking to upgrade use RedfinNow to sell quickly, he said. For families with kids and animals who have a hard time keeping a home clean, Hawkins added, it's an easier alternative to listing the home the traditional way.
Redfin purchases homes under
$1 million, including townhomes and condominiums.
After the company buys a property, it makes renovations. On average, Hawkins said, the company spends roughly 24 days on renovations for each home, which is on the market for about 30 days. Redfin then takes roughly 30 days to close the home.
Currently, the company is investing in fewer than 100 homes at a time. Hawkins said Redfin plans to expand the offering, but not "grow at all costs."
He added that RedfinNow does not purchase all homes submitted. Some sellers, Hawkins said, are unrealistic on pricing, while some are just curious about the value of the home, and others are too hard to value.
RedfinNow has more than a dozen employees in Los Angeles and a brokerage. Redfin listing agents are used for the properties.
"I think there's a market for it," John Loper, an associate professor of real estate at USC, said of the growing iBuying option. "There are some folks that don't want to or don't have the time to spend 60 or 90 days to have their property showing and have a bunch of people come in."
Nourmand & Associates' Rochelle Maize said iBuying had the potential to "be major," but it would likely be a bigger deal at lower price points. The algorithm used to determine home prices can be improved, she said.
Maize said iBuying could be beneficial to sellers looking to upgrade to a larger home but who need to sell their current property first. Sometimes these parties put in offers for new homes that are contingent upon the sale of their current home, which is less enticing to sellers than other offers.
The downside for sellers, Loper said, is that groups like Zillow and Redfin need to buy these properties below market value in order to sell and make a profit.
While Loper said the practice is beneficial for a small group of sellers, he does not think it will take over the market or eliminate brokers. He said he does expect to see more companies dabble in iBuying.
For reprint and licensing requests for this article, CLICK HERE.