Downtown Boomtown
Real Estate: Demand for office and residential space accelerated DTLA's transformation
Friday, December 13, 2019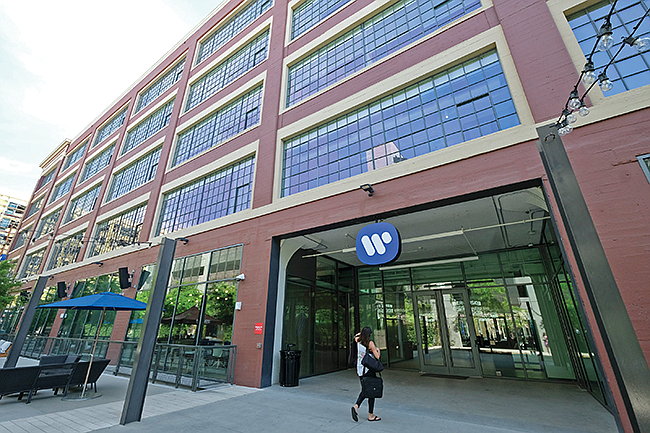 Downtown's transformation — from its ever-changing skyline to the increasingly trendy Arts District — picked up steam in 2019.
Development of office space and residential properties surged. New companies moved in, which attracted residents to the burgeoning area. As more residents moved in, retail and restaurants followed. And more businesses, drawn to the young, educated workforce moving downtown shifted operations to the region.
Take the Arts District, which not long ago was known for its warehouses and artist studios. Now it's home to music labels, tech companies, coworking spaces and social clubs.
On the commercial side, the highly anticipated Soho Warehouse, a new outpost of the tony, private social club chain of London-based Soho House Group, opened in September at 1000 S. Santa Fe Ave. WeWork Cos. Inc. opened its first Arts District location at The Maxwell, a creative office development at 405 Mateo St., around the same time.
Earlier in the year, Warner Music Group shifted its headquarters to 777 S. Santa Fe Ave. — a downtown building purchased by its parent company, Access Industries Inc., for $195 million — from Burbank.
Companies signing new leases in the area included Honey Science Corp., the online coupon company; Ghost Management Group, owner of Weedmaps, a website that is essentially a Yelp for cannabis; and Spotify Technology.
Since 2013, roughly $6.5 billion has been spent to buy and upgrade high-rise buildings in the city center, according to the Downtown Center Business Improvement District.
Property owner and manager KBS, recently started a $20 million renovation on Union Bank Plaza. The remodel will include updated retail, a conference center and outdoor seating. KBS is also building speculative tenant suites.
Rising Realty Partners and Lionstone Investments renovated the Trust Building at 433 S. Spring St. KTGY Architecture and Planning and celeb chef Curtis Stone were among the first leases signed for the revamped property.
Other companies upgrading buildings in hopes of attracting more media and tech tenants include Coretrust Capital Partners and Brookfield Office Properties Inc.
All this has been accompanied on the residential side by a surge in new units hitting the market throughout downtown. So far this year, 3,099 units have opened in the area, bringing the total downtown to 46,666 by the end of the third quarter, compared to 43,601 at the end of the third quarter 2018, according to the DCBID. Most of the 5,744 residential units under construction at the end of the third quarter are expected to come to market by 2021.
Keep Reading: 2019 Year in Review Special Report
For reprint and licensing requests for this article, CLICK HERE.