Herbalife Opens Training Center in China
Wednesday, December 4, 2019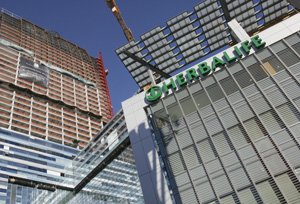 Downtown-based Herbalife Nutrition Inc. announced Dec. 4 it has opened the first of four planned training centers in China for its customers and distributors.
The global nutrition products maker and marketer opened a 9,200-square-foot facility in Chengdu, the capital of Sichuan province in southwest China. It will be used to train and educate customers and distributors on nutrition and healthy meal preparation.
Designed to hold up to 600 people, the facility contains three meeting rooms and a kitchen where trainees can sample the company's various nutrition products. It is also equipped with two large LED screens and several laser presentation projectors.
Herbalife plans to open three similar facilities in other parts of China by the end of next year, the company said in its announcement. Locations for those facilities have not been announced.
"These centers offer a state-of-the-art training facility through a truly immersive experience helping people learn more about the company's past, present and how they can be a part of our future," John DeSimone, Herbalife's co-president and chief strategic officer, said in the announcement.
Herbalife Nutrition opened its first factory in China in 1998. Since then, the company has added a product innovation center in Shanghai, a botanical ingredients center in Changsha (capital of central China's Hunan province), as well as production technology centers in Nanjing (capital of China's eastern Jiangsu province) and Suzhou (west of Shanghai).
Education, energy, engineering/construction and infrastructure reporter Howard Fine can be reached at hfine@labusinessjournal.com. Follow him on Twitter @howardafine.
For reprint and licensing requests for this article, CLICK HERE.