Acquisition Binge Reshapes Tetra Tech
ENGINEERING: Firm shifts to high-margin lines
Friday, August 30, 2019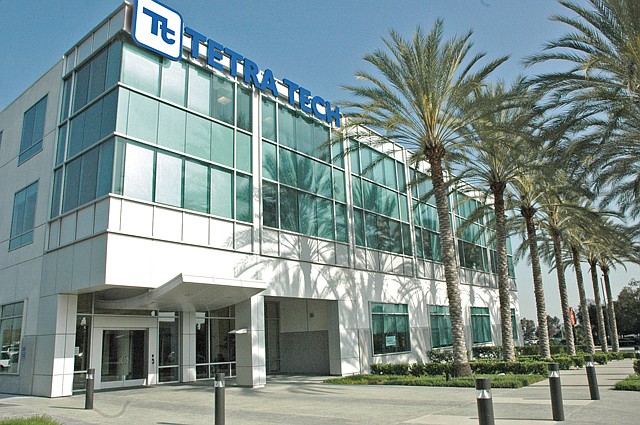 Pasadena-based engineering, consulting and government contracting firm Tetra Tech Inc. has quietly gone on an acquisition spree over the last two years, buying up five companies in an attempt to refocus on higher-margin business lines.
The acquisitions — two international and three domestic — are aimed at bolstering Tetra Tech's capabilities in sustainable building design and data analytics as well as extending its global reach, Chief Executive Dan Batrack told analysts during the company's quarterly earnings teleconference call last month.
The buying binge started nearly two years ago with three acquisitions in quick succession: Glumac, an infrastructure design company, in October 2017; Norman Disney & Young, an Australian infrastructure and design firm, in January 2018; and BridgeNet International, an aviation technology solutions firm in Newport Beach, also in January 2018.
Then, after a yearlong pause, Tetra Tech's buyout activity resumed this year with eGlobalTech Inc., an IT cybersecurity and management consulting firm in Arlington, Va., in April and WYG, a British consultancy, in July.
WYG — the largest of the five acquisitions, involving 1,600 employees — was the only deal with an announced price tag: 43 million pounds (roughly $54 million).
Batrack said on the earnings call that more acquisitions will be coming over the next three years, especially in the building design market.
Share price runup
Tetra Tech provides management consulting and technical services primarily in resource management, infrastructure and communications for public- and private-sector clients. The company, which has roughly 20,000 employees worldwide, reported net income of $137 million on revenue of $2.2 billion for the fiscal year ending in September 2018.
Investors have greeted the five acquisitions favorably. Tetra Tech's share price nearly doubled from about $43 two years ago to $80.39 on Aug. 28.
Gerry Sweeney, an analyst with Newport Beach-based Roth Capital Partners, said the acquisitions are mostly aimed at boosting front-end work on projects — work that tends to have higher margins.
"From the mid-2000s until about 2015, Tetra Tech focused on doing more what could be called 'back-end' work on projects, such as construction management and soil remediation," Sweeney said. "That work tends to be lower margin and carries with it a relatively high degree of risk. It added variability to earnings and, as a result, the company's stock underperformed."
Controversial cleanup
One soil cleanup project in particular generated considerable risk for years in the form of negative headlines for Tetra Tech: monitoring soil that had been contaminated with radiation and other pollutants from the now-shuttered Hunters Point Shipyard in San Francisco.
Last year, two former supervisors working for a Tetra Tech unit were each sentenced to eight months in federal prison for falsifying records for the nuclear radiation cleanup. The company maintained that the supervisors were "rogue employees."
But critics including House Speaker Nancy Pelosi, whose district includes the shipyard area, have expressed concern that the problems may be more widespread. Pelosi has urged the U.S. government not to award any more contracts to Tetra Tech until ongoing investigations are completed.
Sweeney said Tetra Tech has largely phased out new cleanup and construction management work over the past couple of years. He said four of Tetra Tech's recent acquisitions — Glumac, Norman Disney & Young, BridgeNet and eGlobalTech — are aimed at boosting high-value science and technology work on the front end of projects, especially design work. He characterized these acquisitions as on the small side with the aim of acquiring specialized skill sets.
Britain gambit
The WYG acquisition, which was completed in early July, is different, Sweeney said. "That WYG acquisition is the company's entrance path into Europe," he said.
WYG was a major company based in Leeds with a staff of 1,600 at 26 offices throughout the United Kingdom, Batrack said on the call. He acknowledged in his comments that WYG had not been doing well in recent quarters.
For Batrack, this presents a turnaround opportunity. He said during the call that he anticipates getting margins up to 10% by the end of 2020, noting Tetra Tech's margins for similar design work have generally been in the 12% to 13% range.
But Sweeney was more cautious.
"There could be some risk with WYG with the slowing economic conditions in Britain and in Europe," he said.
More generally, Sweeney said, an economic slowdown in the United States could hurt Tetra Tech's business on several fronts, such as in private-sector building design work and especially government contracts.
"Government services has been an especially strong performer for Tetra Tech with high margins approaching 15%," he said. "If that work slows, that becomes a major risk."
Batrack was not made available for further comment on WYG or the Tetra Tech's acquisition strategy.
For reprint and licensing requests for this article, CLICK HERE.