Port Offers Shippers Cash Incentive
LA Program helps boost cargo volume and fees
Friday, August 23, 2019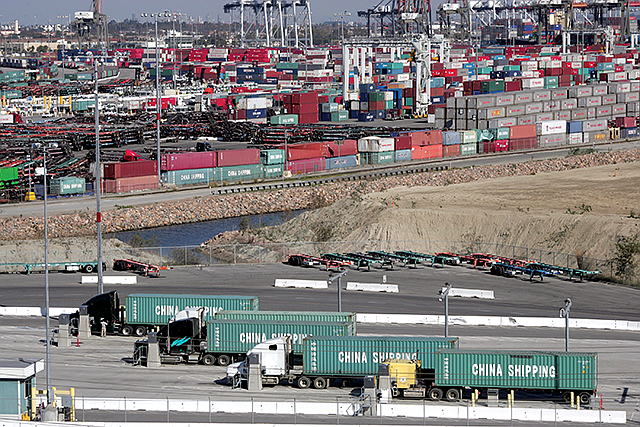 Even amid a difficult U.S.-China trade war and slumping imports at San Pedro Bay, the Port of Los Angeles has seen growth in recent months, often breaking volume records.
The nation's busiest port has seemingly bucked the odds — thanks in part to a little-publicized incentive program that pays shippers $10 for every 20-foot-equivalent unit, a standard measure of cargo, they send through the L.A. terminals. The program, launched in September, will cost the publicly owned port an estimated $6 million to $7 million this fiscal year.
Some say it's also costing the neighboring Port of Long Beach where import volume has declined for several months this year compared to previous years.
The difference between the two ports is stark. In June, imports fell 13.7% at Long Beach compared to a year earlier while Los Angeles saw imports rise 3.5% during the same period.
"This incentive program is designed to keep jobs and cargo flowing here and to operate our port as efficiently as possible," said Gene Seroka, the Port of L.A.'s executive director. "Of course, our priority is to remain number one."
In exchange for the funds, port officials have asked shippers to provide data on their vessels and cargo. The port has been using that data to power a digital portal it launched with GE Transportation earlier this year.
The portal is supposed to improve the port's efficiency by giving terminals earlier information on arriving ships in order to help them position equipment to handle the cargo. The system has met with mixed reviews from the cargo handling community.
Under the incentive program, the Port of L.A. pays shippers up to $2 million for all cargo that exceeds set benchmarks.
The arrangement creates a new financial relationship between the port authority and the companies that ship goods through its facilities.
It also appears to be seeking to address the long-term trend of West Coast ports losing business to growing East Coast and Gulf Coast ports like Savannah, Ga.; Charleston, S.C.; Houston and Norfolk, Va.
"It's a market-share battle," said Paul Bingham, a transportation consultant with IHS Markit Ltd. "They are trying to affect the decision at the margin."
Bingham added that companies that are shifting production out of China to other Asian nations find it can be cheaper to ship those goods into the United States via East Coast ports.
"This is probably some step to slow that, but I don't know that they can ultimately do that," Bingham said. "Two-thirds of the population still lives West of the Mississippi."
For reprint and licensing requests for this article, CLICK HERE.