Nuclear Waste Plagues Edison
ENERGY: Utility stymied in bid to dispose of spent fuel
Friday, August 16, 2019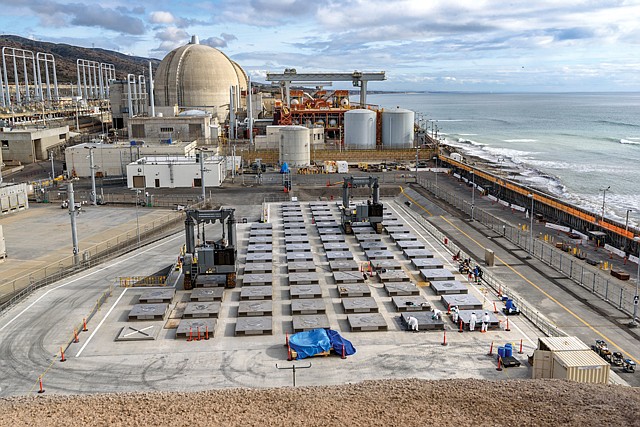 Call it the ultimate NIMBY conundrum.
Southern California Edison, the utility subsidiary of Rosemead-based Edison International, has been trying to figure out what to do with 3.6 million pounds of nuclear waste at the shuttered San Onofre Nuclear Generating Station in northern San Diego County.
No one wants the waste to remain onsite. Indeed, two years ago, Southern California Edison reached agreement with an anti-nuclear group and nearby residents to make every "commercially reasonable effort" to remove the waste from the facility.
Trouble is, there's no legally permitted facility to accept the waste. A proposed nuclear waste repository at Nevada's Yucca Mountain has been stalled by political opposition for decades and licensing approvals for private interim storage sites in New Mexico and Texas have not moved substantially since applications were received three years ago.
It's not just an environmental issue. It's a key piece in Southern California Edison's plans to decommission the power plant. The $4.4 billion project — with costs to be borne by ratepayers — is expected to take 10 years.
To try to break the logjam, Southern California Edison in June hired Idaho Falls, Idaho-based environmental and engineering consulting firm North Wind Inc. — a subsidiary of Anchorage, Alaska-based Cook Inlet Region Inc. — to come up with other sites for interim storage of the nuclear waste and to try to hammer out "stakeholder agreements" so the waste can be moved from San Onofre.

"While it is true that there is no licensed facility currently available,
there is much work that can be done to support the development of other alternatives for a licensed facility," John Dobken, spokesman for Southern California Edison at the San Onofre Nuclear Generating Station, said in an email. "To our knowledge, no other commercial nuclear site in the U.S. has taken the initiative to develop a strategic plan to relocate their spent nuclear fuel."
North Wind said in an emailed statement that it will be providing Southern California Edison with analyses and recommendations that are commercially reasonable to move fuel off-site. This includes looking at safety, technical feasibility, costs, utility customer interests and the likelihood of a successful licensing outcome.
Stalled storage plans
Spent nuclear fuel is the term for nuclear rods that no longer have enough fuel to sustain a nuclear reaction; the remaining nuclear fuel in each rod will continue to give off radiation for hundreds, if not thousands, of years.
Prev Next
For reprint and licensing requests for this article, CLICK HERE.