Health-Ade Brews Success
Drinks: Kombucha brand attracts Coca-Cola investment
Friday, August 16, 2019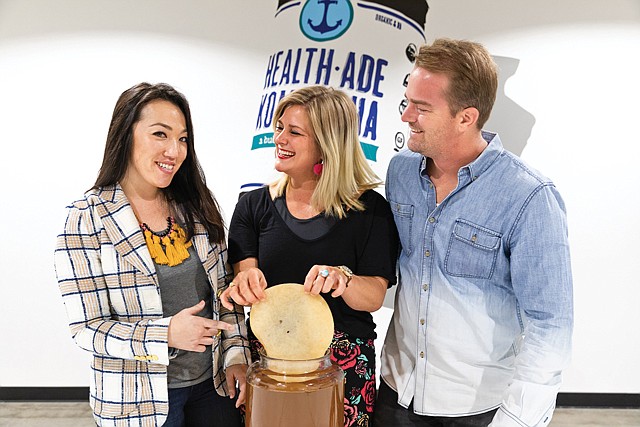 Daina Trout began selling home-brewed kombucha at the Brentwood farmer's market in 2012, working alongside her future husband and her best friend to sling the fermented tea for $5 a bottle.
Today their company, Health-Ade, is a leader in the fast-growing $815 million industry, producing 100,000 bottles of the bubbly concoction each week and attracting investments from Coca-Cola Co. and venture capitalists.
Trout dreamed up the company with her then-boyfriend Justin Trout and friend Vanessa Dew who like Daina, worked in pharmaceutical sales. Over hot tub sessions and dinners, the then-twentysomethings called themselves the "entrepreneur club."
"We were all looking to understand, what is our higher purpose?" Dew said. "We were all feeling really bored with our jobs."
Eventually they decided to try selling the kombucha that Trout, who'd been experimenting with fermented foods for years, had been creating in her kitchen.
The low-sugar beverage had long been popular with health enthusiasts, gaining a cultish following for its promise as a probiotic that helps improve digestive health.
Shortly after the crew sold their first batch at the farmer's market, they started to gain a following.
By the next year, they said, they were working out of a Manhattan Beach bakery, where the owner let them make their drink on the premises in exchange for working at the register.
An acquired taste
The fermented tea takes about 21 days to brew and is created by what's often referred to as a "scoby," the acronym for a symbiotic culture of bacteria and yeast that's added to tea to assist fermentation.

The trio began selling the brew wholesale. Soon they were cruising around town delivering their goods. In 2013, they quit their jobs and secured a base for operations in Gardena. Growth was ballooning, and by the next year grocery chain Gelson's Markets was calling.
The move from mom-and-pop brewers to major distributors was a big leap for the friends, who were used to bringing five cases to a farmer's market, not delivering four pallets to a grocery chain, Dew said.
The largest beverage maker in the world, Coca-Cola Co., took an interest early, as did Century City-based First Beverage Group, which was among a handful of venture capitalists that, according to PitchBook Data Inc., have helped raise $34.1 million to fund the company since 2016.
In 2016, the company opened a 50,000-square-foot office and production and bottling facility in Torrance.
Dew said sales have tripled or quadrupled every year. Health-Ade now distributes its kombucha in Whole Foods Market Inc., Target Corp. and Costco Wholesale Corp. stores. Last year, Dew said, Health-Ade recorded $100 million in retail sales.
Prev Next
For reprint and licensing requests for this article, CLICK HERE.