Architect Ma to Design BH Housing
Gardenhouse units will start at $3.7 million
Friday, August 16, 2019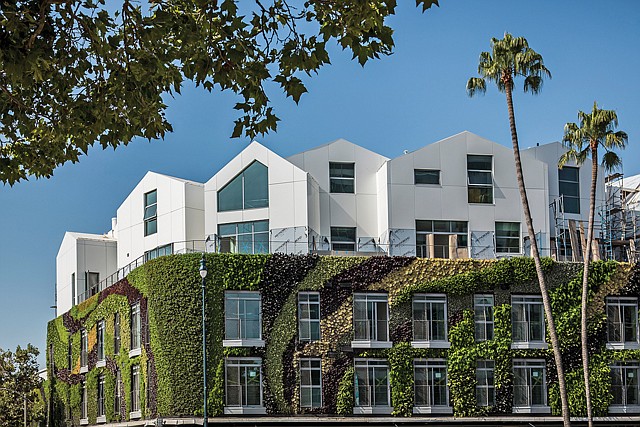 Ma Yansong, the famed Chinese architect behind the upcoming Lucas Museum of Narrative Art, is designing a new development in Beverly Hills.
Known as Gardenhouse, the building will be the first of its kind in L.A. from Ma and MAD Architects. Gardenhouse combines multiple lots into a multifamily project with homes, gardens and the largest living art wall in the country, according to Palisades, the developer on the project.
"He's a visionary architect globally," said Don Heller, the head of sales for Gardenhouse, said of Ma. "This is the first project he looked at in the United States. His concept of design is to marry nature and your surroundings with the residential environment."
In a statement, Ma said, "My hope is for architecture to reconsider the relationship between humanity and nature and reestablish the emotional connection between the two."
"With Gardenhouse, we propose a new paradigm for the West Coast architectural vernacular amid the sprawling density of Los Angeles," added Ma, the founder and principal partner at MAD Architects.
Rottet Studio is designing the interiors. The complex has a reflecting pool, an open-air courtyard, open floor plans, high-end kitchens and bathrooms with Japanese onsen-style wet rooms with free-standing tubs.
Ken Simpson, vice president of Palisades, in a statement called it a "rare opportunity to create something completely unique for Beverly Hills."
Sales will start in the fall. Compass is leading sales for the building, which start at $3.7 million.
"We didn't design these to be for every buyer," Heller said. "These are for people that are really looking for something that is a one-of-a-kind collector's item."
Yansong's other major project in L.A., the Lucas Museum of Narrative Art, is under construction. The project is in Exposition Park, adjacent to USC. Once completed, the $1 billion project will have a 300,000-square-foot museum displaying art, digital technology and film screenings. It will also be surrounded by 11 acres of parks and gardens.
For reprint and licensing requests for this article, CLICK HERE.