Rare Office Building in Hermosa Sells
Wednesday, August 14, 2019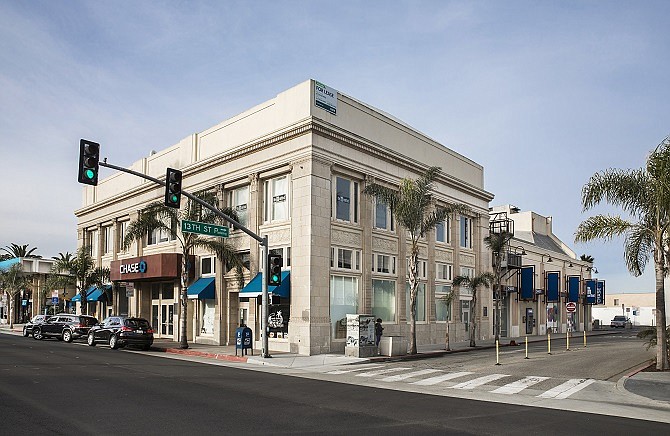 Increasingly scarce office properties near the beach are selling at a premium.
The Bijou Building, a roughly 23,000-square-foot building in Hermosa Beach, has sold for $18 million. It is a three-story mixed-use building with office and retail space.
The building was built in 1923 as the Metropolitan Theater.
The seller, Federal Realty Investment Trust, was represented by Newmark Knight Frank's Kevin Shannon, Ken White, Rob Hannan, Laura Stumm, Sean Fulp, Ryan Plummer and Brad Feld. NKF's David Ghermezian, Amir Araghi and Jonathan Dadourian represented the buyer, an LLC called 1221 Hermosa Ave.
"The location is the most desirable part about this building," Stumm said. "It's two buildings from the sand and one from the Hermosa Beach Pier. Finding something that's this coastal with walkable amenities and improvements, that was desirable for our buyer. There's such a scarcity of product that comes to the market in this area."
The buyer, she said, is a long-term investor. The tenant suites have already been renovated and Stumm expects the buyer to eventually make some minor exterior fixes.
NKF's David Milestone and Brett Green secured financing for the buyer.
The building is 94% occupied. Tenants include JPMorgan Chase & Co., Beach City Capital, Steel Partners and Bar Method Inc.
Stumm said Hermosa Beach isn't a major office market because of the lack of supply, which also means the vacancy rate for office buildings in the city is incredibly low.
"As we're seeing El Segundo tighten up … the demand for office space in these coastal locations is just continuing to push south," Stumm said.
Indeed, the South Bay office market has been heating up. Asking rates during the second quarter were $3.57 a square foot, up 42 cents in a year, according to data from Jones Lang LaSalle Inc. During the quarter there were 609,695 square feet under construction, more than in other hot markets like downtown.
Commercial real estate reporter Hannah Madans can be reached at hmadans@labusinessjournal.com. Follow her on Twitter @HannahMadans.
For reprint and licensing requests for this article, CLICK HERE.