Nedl, Nurtured at Sip & Sonder, Pitches Mark Cuban
Tuesday, August 13, 2019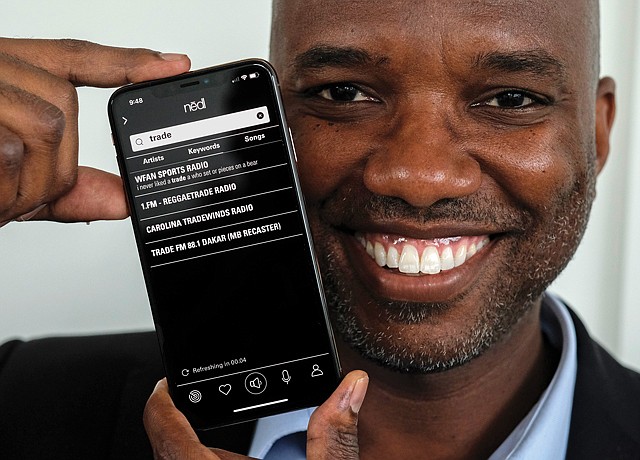 Ayinde Alakoye, co-founder of Santa Monica mobile radio app Nedl, is looking to capitalize on the growing podcast market.
Alakoye's startup, which gained the attention of venture investors at a pitch event at Inglewood's Sip & Sonder, uses proprietary speech recognition technology to scan audio broadcasts worldwide for names and keywords. The software gives users the ability to find live audio content on topics they're interested in rather than having to scan radio stations and podcast streams.
Broadcasters can also use Nedl to market their streams and broadcasts as the app indexes their speech and makes it searchable.
Alakoye, who developed the mobile app that became iHeartradio in the early 2000s, continues to be drawn to the broadcast space where advertising revenue has been steadily rising — particularly in the podcast medium.
Last year, podcasts generated $480 million in ad revenue, according to a study by PricewaterhouseCoopers and Washington, D.C.-based trade group Interactive Advertising Bureau. That represents a surge of 53% from $314 million in 2017. And PwC and IAB estimate the market will roughly double again by 2021.
Those numbers factor into Alakoye's pitch when he goes to investors — and he's convinced more than a few to sign on.
West L.A.-based Backstage Capital provided just under $100,000. Nedl has also raised funds from the National Association of Broadcasters, South Asian television network Diya TV Inc., San Francisco-based Matter Ventures, Austin-based early stage investor Quake Capital Partners and Century City-based media investor Membrain.
Sweet Capital Ltd., an investment fund created by the founders of mobile game "Candy Crush," invested $1 million and provided a headquarters for Nedl at the "Sweet House," an incubator office space for some of Sweet's investments.
Nedl hopes to complete a second round of $2 million in fundraising before the end of the year.
Alakoye is targeting one particularly high-profile potential investor: billionaire and Dallas Mavericks owner Mark Cuban.
On July 17, Alakoye and a handful of other startups funded by Backstage Capital and others traveled to Dallas to meet with Cuban. The founders spent a few hours with him, pitching their businesses at a downtown hotel.
"It was billed as a mini-Shark Tank without the TV," Alakoye said.
Since then, Alakoye said he's spoken by phone with Cuban, who seemed receptive. Cuban made his first billion dollars through the sale of his internet radio startup company, broadcast.com, to Yahoo! nearly 20 years ago.
Reached by email, Cuban said of Nedl's business: "I think if they focus on the podcast market, they can have a really good business."
Alakoye said Cuban "saw our business for exactly what it is. We've had a lot of conversations with others where we have to justify radio — he wasn't like that."
For reprint and licensing requests for this article, CLICK HERE.