Sports Center
How Schloessman and LASEC help bring the big games to LA
Friday, August 9, 2019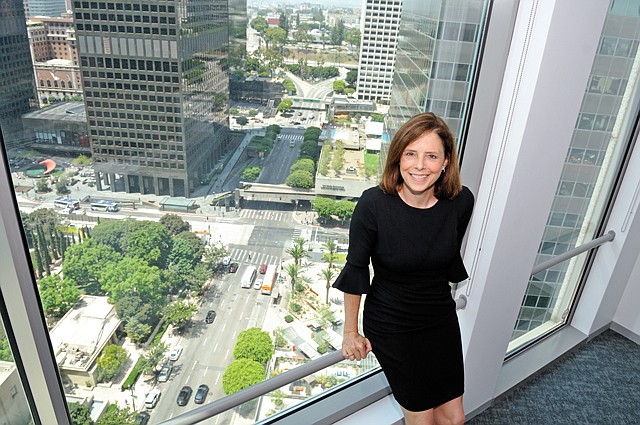 How has your background in the business world helped with this role?
I came out of commercial real estate at CBRE, representing various law firms. I had no background in the sports business. My background has helped me with a lot of business community relationships in Los Angeles. I can go to them and ask for help in different ways, shapes or forms. It's all about relationships.
What advantages does L.A. have when it comes to attracting Olympics and Super Bowls and All-Star Games?
We are selling a "new" L.A., and as a salesperson, this city is not too tough of a sell. I feel this is L.A.'s moment. We are a well-oiled machine when it comes to hosting major events, and we are able to pull from a great resource base to get that done.
How does L.A. benefit from its extensive range of stadiums and arenas?
There has been tremendous investment made in the venues in this city, and we want to make sure these events know all of the options they have. We work closely with AEG (at Staples Center downtown and Dignity Health Sports Park in Carson), LAFC (Los Angeles Football Club) and the new Banc of California Stadium. The L.A. Stadium and Entertainment District in Inglewood is phenomenal. Then there is the Coliseum and Dodger Stadium spending significantly on improvements to their venues. Staples Center is still the best arena in the country 20 years after it opened, and it is investing in its future as well. It's nice to have so many assets to showcase compared to other cities.
The Clippers recently rolled out plans for a new arena in Inglewood that would open in 2024. What possibilities does that add?
We'll have to wait and see, but you always benefit from increased investments that create new infrastructure. It's great to have another new asset to offer for concerts, sponsor events, fan fests or as a media center.
What do you consider your biggest "get" so far?
It really hasn't been a single event, but it's the Inglewood stadium (due to open in 2020). No one will be able to eclipse that project, not just in our town, but across the country.
How does L.A.'s status as the world's entertainment capital factor into the equation for sports bids?
The entertainment industry here really differentiates us from other cities. We have celebrities already living here, so when a sports event comes to town, it can tap into that market to help drive awareness, attendance, attract media attention, and the organizers don't have to fly talent in. That's a huge advantage for us. And we know entertainers love sporting events, and athletes love entertainers.
For reprint and licensing requests for this article, CLICK HERE.