OPEN FOR BID-NESS
Andrew Jones • Andrew Jones Auctions
Friday, August 9, 2019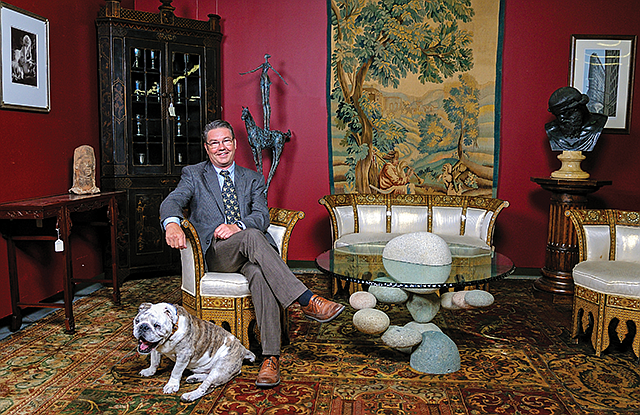 Andrew Jones, chief executive of Andrew Jones Auctions in L.A.'s Historic South-Central neighborhood, has a go-to jacket he wears when acting as auctioneer at the auction house, which opened in May 2018.
The jacket, a vision in pink and purple checks accessorized with a jaunty pocket square, is not for sale. But you can buy virtually everything else in the company's showroom – with the exception of Jones' amiable bulldog rescue, Archie.
"It's a very eclectic auction house. Every sale encompasses Greek and Roman antiquities through to contemporary art and modern furniture," Jones said during a recent Business Journal visit, seated in a suite of intricately inlaid Syrian furniture paired with a 1980s coffee table designed by Woods Davy, its glass top suspended in an assemblage of natural stones.
Nearby, a geometric coffee table by L.A. contemporary artist Laddie John Dill provides a striking contrast to the antique Agra carpet underneath.

Although he wasn't wearing the distinctive auctioneer's jacket, Jones completed the day's ensemble with a tie from the Oxford University Museum of Natural History in Oxford, England — patterned with that institution's mascot of sorts, the extinct dodo bird. The museum prides itself on housing rare dodo skulls and skeletons in its collections.
"The tie was given to me by my late father," Jones said. "Somebody told me that the antique business was going to be like the dodo. I said absolutely not. Antique furniture is not dead. It's doing pretty damn good."
In an era when many collectors have taken their treasure hunt to the internet, British-born Jones, most recently director of furniture and decorative arts for Bonhams in North America, said he launched a brick-and-mortar auction house to bring back the fun of live auctioneering to Los Angeles.
Preauction open houses and onsite auctions provide visitors with a hands-on experience without the don't-touch rules of a museum. "You can turn a chair upside down, have a look at a piece of silver, put a piece of jewelry on your arm," Jones said. "You can pick up a 3,000-year-old votive head and inspect it."
Jones acknowledged the market for heavy, ornate furniture and jewelry has softened, and today's auction house must mix in modern pieces and celebrity memorabilia to maintain an edge.
"The younger generation, the thirtysomethings, are not living the same way; they're not collecting the same way" as previous generations, Jones said.
However, that does not mean there's no place for an antique or even an antiquity in a modern home or a contemporary creative office. "Rather than going full period, they are taking (period pieces) and using them as little focal points," Jones said. Large, dramatic pieces are often chosen to complement contemporary lines in a workspace.
However, if you do want to surround yourself with antiques, now is the time to buy, Jones added. "The market for antique furniture, decorative arts, paintings, has actually gone down in value, so it's actually a great time to play," he said." You could furnish a 3,000-square-foot home today for very little."
For reprint and licensing requests for this article, CLICK HERE.
Stories You May Also Be Interested In