Long Beach Airport Passenger Traffic Slides After JetBlue Pullback
Thursday, August 8, 2019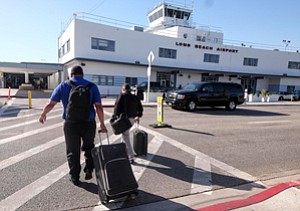 Long Beach Airport passenger traffic fell 15.5% for the first half of 2019 compared to the same period last year as the fallout continues from JetBlue Airways' pullback in flights in September.
Long Beach airport officials announced Aug. 5 that for the first six months of 2019, 1.71 million passengers went through the municipal airport, down from 2.03 million passengers for the first six months of 2018.
The falloff in passenger traffic eased slightly in June as passenger traffic decreased 12.8% from June 2018 to roughly 307,000.
The main culprit for the drops was the decision by JetBlue Airways Corp. — long the dominant carrier at the municipally owned airport — to sharply cut flights after the city failed in late 2017 to approve construction of customs facilities to support international flights. Starting in September, JetBlue cut 11 of its 34 daily flights. As a result, the airline's passenger boardings at Long Beach fell 39% for the first half of 2019, to 484,000.
Yet even with the cutbacks, more than half of all passengers going into or out of Long Beach still fly JetBlue.
Southwest Airlines Co. picked up some of the slack, nearly doubling its passenger boardings at Long Beach to 257,000. Hawaiian Airlines Inc., which had a barely noticeable 5,500 passengers for the first half of 2018, jumped more than five-fold to nearly 30,000 for the first half of this year.
Meanwhile, air cargo tonnage rose 8% during the first six months of this year to 10,463 tons. Federal Express Corp. grew cargo tonnage 13%, despite the number of landings remaining constant.
Education, energy, engineering/construction and infrastructure reporter Howard Fine can be reached at hfine@labusinessjournal.com. Follow him on Twitter @howardafine.
For reprint and licensing requests for this article, CLICK HERE.