Profits Slide at Activision as Competitors Gain Ground
Thursday, August 8, 2019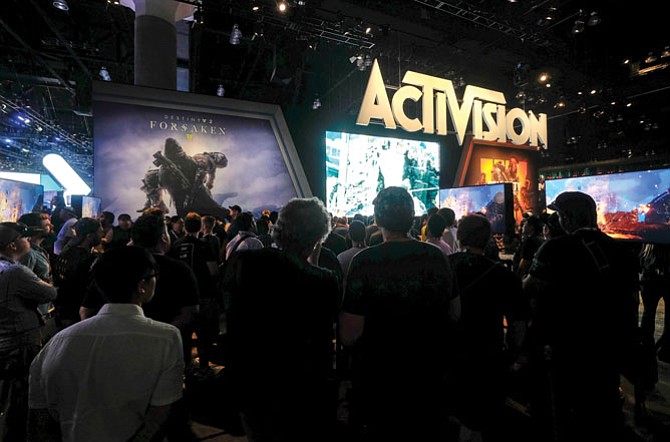 Video game developer Activision Blizzard Inc. stumbled in the second quarter with profits falling more than 18% as competitors gained ground.
The Santa Monica-based publisher behind popular games such as "Call of Duty" and "Overwatch" saw its daily active users fall to 327 million in the second quarter, from 352 million during the same period last year. The company's net bookings — sales within its games — dropped 12.3% to $1.21 billion.
Overall, profits fell to $328 million from $402 million during the same period in 2018.
Activision has labeled this a "transition year" as it finds its footing with consumers who are increasingly gravitating toward free-to-play mobile gaming. Competition from rival titles like Epic Games Inc.'s "Fortnite" combined with the departure of a key franchise, Bungie's "Destiny" game series, forced the Activision to rethink its priorities, Chief Executive Bobby Kotick said in a statement Thursday.
Take Two Interactive, the publisher of "Grand Theft Auto" and "NBA 2K," exceeded profit expectations in the second quarter, and its share price jumped after reporting financial results Monday.
Activision shares declined incrementally in after-hours trading after its second-quarter earnings report Thursday.
The company hasn't put forth much that's new in the way of intellectual property this year. Rather, it has focused on hiring developers to expand its existing popular titles.
"In the first half of 2019 we have prioritized investments in our key franchises and, beginning in the second half of this year our audiences will have a chance to see and experience the initial results of these efforts," Kotick said in the statement.
Activision has also undertaken reorganization efforts to improve the company's bottom line. In February, the company laid off 775 people, roughly 8% of its staff. Activision said in an statement accompanying the earnings report that it was "de-prioritizing initiatives that are not meeting expectations and reducing certain non-development and administrative-related costs across the business."
Tech reporter Samson Amore can be reached at samore@labusinessjournal.com or (323) 556-8335. Follow him on Twitter @Samsonamore.
CORRECTION: An earlier version of this story misstated when Activision laid off 775 employees. It occurred in February.
For reprint and licensing requests for this article, CLICK HERE.