Tourist-Friendly Hollywood & Highland Retail Center Sold for $320 Million
Monday, August 5, 2019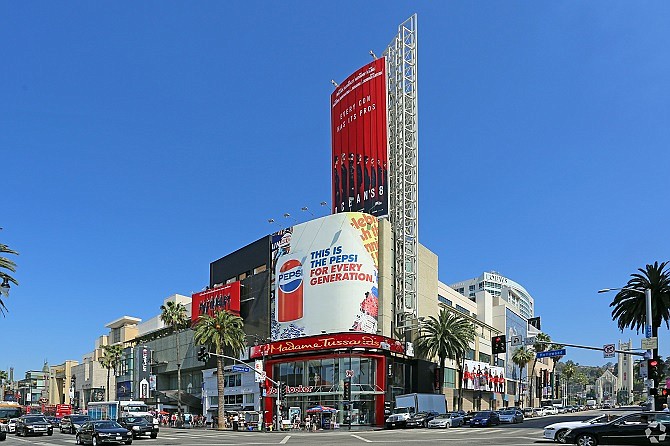 CIM Group Inc. has sold the 460,000-square-foot retail and entertainment property at Hollywood and Highland, which attracts tourists and locals alike in the heart of Hollywood.
Industry sources say the deal was worth around $320 million.
DJM Capital Partners Inc. and Gaw Capital USA purchased the complex from CIM Group. The sale didn't include the Dolby Theatre, known for hosting the Academy Awards, which CIM Group will continue to operate.
The companies wouldn't disclose further details of the transaction, saying only that it was the largest single-asset retail sale outside of Manhattan in almost three years. DJM and Gaw Capital said they plan to upgrade the complex and add more events.
Natixis provided financing, which included an acquisition loan.
"The retail landscape has shifted, consumer tastes have adapted, and 'New Hollywood' is constantly redefining itself," DJM Chief Retail Officer Stenn Parton said in a statement. "With Hollywood & Highland, we at DJM and Gaw Capital are eager to seize the opportunity to create, in the heart of Los Angeles, an environment where the iconic allure of 'Old Hollywood' meets the modern innovation of new media."
Renovations will begin in 2020 and wrap up by the following year.
CIM acquired the complex — which included the retail center, the Dolby Theatre and a 632-room hotel in 2004. The Mid-Wilshire-based company sold the hotel in 2012 and recapitalized the retail and entertainment center in 2013.
"CIM's repositioning of Hollywood & Highland increased its visibility and provided a stable anchor for the resurgence of Hollywood. The development was envisioned as a catalytic project that would propel private investment and development in the community. We believe we have fulfilled this mission," said Shaul Kuba, co-founder and principal of CIM Group, in a statement.
Gaw Capital's chairman and managing principal, Goodwin Gaw, redeveloped the nearby Hollywood Roosevelt hotel in 1995. He called the hotel a "one-of-a-kind lifestyle hotel forged with distinction in Hollywood's history" in a statement.
"We look forward to working with DJM to enhance the asset by leveraging the digital content revolution and innovative technology, to re-imagine this complex to become the new 'town center for the Hollywood community,'" Gaw added.
Commercial real estate reporter Hannah Madans can be reached at hmadans@labusinessjournal.com. Follow her on Twitter @HannahMadans.
For reprint and licensing requests for this article, CLICK HERE.