WeHo Plans Pot Lounges
retail: City collects $3 million from applicants
Friday, April 26, 2019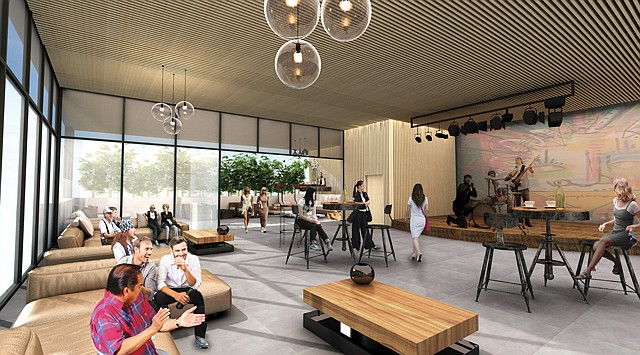 Vered Nisim wants to make West Hollywood the happiest place on Earth for pot smokers.
"The Disneyland of cannabis is what we are building," said Nisim, who is in the process of opening Fire Lounge — a club where clientele can consume marijuana on site. "This is not for someone who just wants to smoke. This is about the experience from A to Z."
West Hollywood is on board with that vision of a pot-smokers paradise — Fire Lounge is one of 16 consumption lounges that received permits last year from the city, which also approved licenses for both recreational and medical marijuana dispensaries and delivery services.
Competition for the licenses was intense, with about 120 applicants vying for 36 permits. Candidates paid the city a $10,000 application fee, which netted West Hollywood $3 million as some applicants sought multiple permits.
For entrepreneurs like Nisim who plan on tapping into the burgeoning — and potentially lucrative — above-board cannabis industry, the application fee is a small portion of the upfront capital investment they're committing. Nisim and her investors have sunk more than $3 million to renovate a two-story Sunset Boulevard storefront and have contacted hotels, tour companies and even Australia's tourism board in an effort to market Fire Lounge to marijuana enthusiasts from around the world.
Nisim isn't the only one to see this as the start of a West Coast Amsterdam. Several other companies have invested millions of dollars in high-end cannabis lounges, cafes and consumption locations along Sunset and Santa Monica boulevards, some with celebrity tie-ins. Several of the locations, including Fire Lounge, are expected to open by year's end. Las Vegas-based Essence Cannabis Dispensary will open a boutique lounge and retail location later this year. And The Artist Tree plans a retail store for later this year, followed by a smoking lounge and restaurant debuting early next year.
The city, which plays host to tourists who contribute about $1.7 billion to the local economy, says it's ready to be a marijuana mecca.

"We think this is going to be an important part of our tourism industry, especially since West Hollywood already has a pretty vibrant nightlife with bars, restaurants and entertainment facilities adjacent to many hotels," said John Leonard, community and legislative affairs manager for the city. "We can become a unique destination for cannabis because of the quality of the establishments and their concentration."
Potential problems
But there are some serious stumbling blocks, the biggest of which is that cannabis lounges and restaurants are illegal under state law. And under the terms of the California statute legalizing recreational marijuana, cannabis businesses must have both a license from a local government entity and one from the state.
The Bureau of Cannabis Control — the state's marijuana regulatory and licensing body — issued a draft regulation last year that allowed for cannabis restaurants and lounges. But when final regulations were adopted in January, those allowances were removed, in part out concern that lounges and restaurants would allow untested cannabis products to be cooked on site.
In lieu of policy changes by the state agency, there's an effort underway in Sacramento to amend the marijuana law to allow for licensing of consumption lounges. Advocates — including officials from West Hollywood — said there's support for a fix that would allow companies to operate such establishments.
The city has been working with state Assemblyman Richard Bloom on Assembly Bill 1465, which would create a new licensing category for cannabis lounges and cafes. It's tagged urgent, so if passed it would go into effect immediately. There's no opposition pending, according to Andrew Aldama, Bloom's legislative aide, and the bill has already cleared the first committee. The bill is headed to the Assembly's Appropriations Committee and is expected to head to the full Assembly around mid-May. If passed, it will reach the Senate in June and must go to Gov. Gavin Newsom by October.
Even if the bill passes, the new businesses will face strict regulatory guidance — and a heavy tax burden.
In March, voters in West Hollywood passed a new 7.5% tax on cannabis-related businesses. The city expects marijuana businesses will pay out about $5.5 million annually in new taxes. That's on top of the 15% flat state tax and local sales taxes. It amounts to a 32% tax on recreational cannabis. West Hollywood doesn't impose local or city taxes on medical marijuana.
Despite facing a stiff tax burden and not knowing with certainty whether their businesses will be allowed to operate, entrepreneurs who were awarded WeHo licenses seem to be moving forward with buildouts, and city officials are looking ahead to a service economy where marijuana fits in naturally.
"We were envisioning these to be hospitality businesses where you can have regular food side by side with cannabis," Leonard said. "They can order a salad, and you can order a package of THC salad dressing, and you can put that over your salad."
For reprint and licensing requests for this article, CLICK HERE.