Forge Fires Up in SoCal Malls
Tech: Hiring platform connects retailers, employees
Friday, April 26, 2019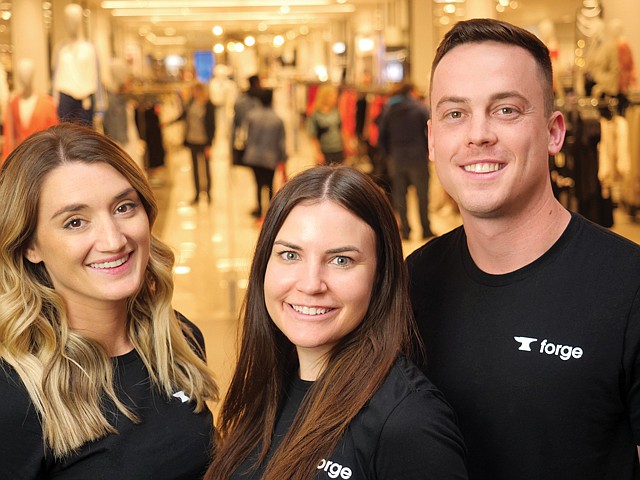 With record low unemployment in the United States, retailers are looking to nontraditional methods for staffing shifts and filling open positions.
That's been a boon for Playa Vista-based Forge Technologies Inc., an online platform that allows retail outlets at shopping centers and malls to share employees.
"Both low unemployment and low workforce participation rates are, in part, causing retailers and restaurant operators to find new avenues to attract talent," said Forge Chief Executive Stacey Ferreira. "With more jobs in the U.S. than people to fill them, sharing talent is the perfect way for a business operator to get access to quality employees looking for a few additional hours."
Forge's service is already in use at 10 malls nationally. The company launched at Mall of America in Bloomington, Minn. on April 18, and it has plans to roll out its talent sharing platform at the Glendale Galleria and five other Southern California malls in May.
Forge works directly with real estate investment trusts and landlords that own malls before approaching individual business. It then encourages store managers to join the platform and recruit their staff to join. Once signed up, managers can recruit staff from other outlets to cover shifts at their stores, and employees can look to pick up additional work at nearby retailers.
Ferreira said stores treat employees picked up through the Forge platform as W-2 hourly workers, and that the hiring process and internal human resources functions are left to individual retailers.
"We're very hands off on that part," Ferreira said.
The demand for retail workers is driven by ultra-low unemployment rates that dropped to 3.8% nationally in March, down from 4% in January 2019. Roughly 15.8 million people nationwide worked in retail as of March, up from 15.6 million during the same period a year ago, according to the Bureau of Labor Statistics.
California's Employment Development Department said total retail jobs in the state are expected to increase 11% to 133,690 jobs in 2022 from 120,450 jobs in 2012.
Venture backing
Forge has raised $4 million in two fundraising rounds since it was founded in 2015. The company's backers include downtown-based venture investor Inevitable Ventures, founded in 2015 by Ron Burkle and D.A. Wallach.
Wallach said Inevitable invested in Forge because retail employment solutions were an undervalued market segment.
"We felt like the new challenges that big parts of the retail economy were encountering deserved equal attention and were under-appreciated and under-covered by investors, in particular the incredible rates of turnover you see at retailers at malls or local restaurants," Wallach said.
Forge's other investors include L.A.-based KittyHawk Ventures, Palo Alto-based Social Capital and San Francisco-based Sherpa Capital.
Previously headquartered in San Francisco, Fereirra moved Forge to Playa Vista in February after acquiring Huntington Beach-based scheduling application developer ShiftMe Inc. for an undisclosed sum. As part of the deal, former ShiftMe Chief Executive Megan Hottman joined Forge as its head of operations.
Hottman said the company's offerings on the platform will grow.
"We're creating accounts now, and the talent pool will grow over the next couple of months," she said. "The involvement and adoption is really high, so we're excited to see how it grows."
Tiered model
Hallmark Cards Inc., Qdoba Restaurant Corp. and Panda Express Inc. have signed up to use Forge, along with 85 other companies, Ferreira said.
Forge's offerings break down into three subscription tiers. The first is offered to companies for free — it allows retailers to upload their employee base and post available shifts, which employees at other stores that use the platform can apply to pick up. From there, companies can upgrade for a fee of "a few hundred dollars per month" — Forge declined to provide specific fee numbers — to a system that allows retailers to recruit specific employees at other stores. An additional upgrade includes chat functions and a time clock.
In the last week of May, the company will begin offering its platform in several Brookfield Properties locations in Southern California, including the Glendale Galleria, Northridge Fashion Center, Riverside's Galleria at Tyler, Chula Vista's Otay Ranch Center, Chula Vista Center and Shoppes at Carlsbad.
"With the mall launches Forge is doing recently, it is starting to develop some really compelling traction," Wallach said. "The critical moment for a business like this is when you actually strike a nerve with customers, (and) what Stacey is hearing from a landlord level and from the individual store managers is that this fills a real need."
For reprint and licensing requests for this article, CLICK HERE.