Keck Medicine Marks 10 Years Under USC Control
Capital commitments transform campus with more development slated
Friday, April 12, 2019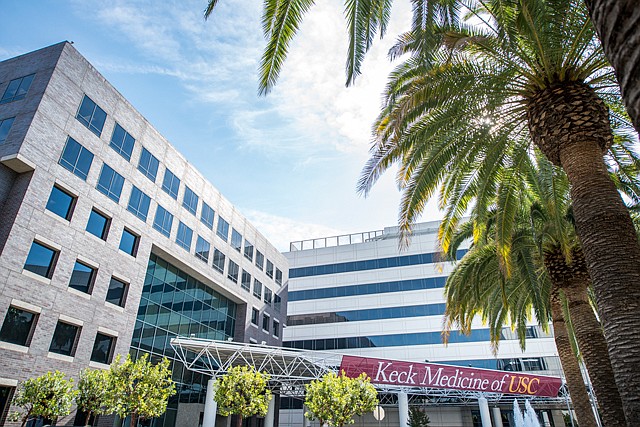 It's been 10 years since USC purchased two university-affiliated hospitals for $275 million from Tenet Healthcare Corp., transforming the school's health sciences campus and forming what is now known as Keck Medicine.
The university's purchases of USC University Hospital and the nearby USC Norris Cancer Hospital in April 2009 came with considerable capital contributions in addition to the initial acquisition price.
Over the past decade, USC spent more than $200 million on medical office and outpatient clinics, and is now building a $50 million hotel and drawing up plans for a new hospital that will cost an estimated $1 billion to $1.3 billion.
The investment in the campus is a point of pride for the Trojans in charge of the revamped medical center.
"We are proud of the work we have done over the past 10 years to build Keck Medicine of USC into a premier medical enterprise," Tom Jackiewicz, its chief executive, said in a statement. "Our partnership with the university has allowed us to recruit new faculty to expand on our foundation of outstanding physicians and continue the groundbreaking research for tomorrow's clinical breakthroughs."
The commitment to upgrading the facilities at Keck Medicine has been expansive. In the past decade, the total number of USC doctors has doubled to 1,200 from 574; hospital employees have quadrupled to 7,000 from 1,600; inpatient visits have tripled to 21,000 from 7,700; and outpatient visits have soared to 575,000 from 56,000 at the more than 40 clinics throughout the region, according to USC. The five-story, 200-room Hyatt House hotel under construction on the 79-acre health campus is expected to open early next year.
The hotel, to include an 18,000-square-foot conference center and 14,000 square feet of restaurant and retail space, is being developed by an affiliate of Irvine-based Mayer Corp.
• • •
City of Hope Names Chen to Chair Post
City of Hope National Medical Center has named research scientist Jianjun Chen to a $2.5 million chairmanship endowed by the Simms/Mann Family Foundation.
The Beverly Hills-based organization established the position in recognition of Chen's research into personalized, gene-based treatments for such cancers as acute myeloid leukemia.
"Dr. Jianjun Chen is digging into the DNA of cancer — the complex, coded instructions that determine when and how cancer starts, the triggers that set the whole process in motion and the techniques to stop it in its tracks," Robert Stone, the Duarte research hospital's chief executive, said in a statement.
He lauded the support of Victoria Mann Simms and her husband, Ronald, who launched their foundation 34 years ago to support education, health and wellness, and arts and culture programs.
"We believe everyone, regardless of their socio-economic status, should have access to a healthy life, an education, and art and culture," Victoria Simms said in a statement.
• • •
Vote Delayed on County Bioscience Ordinance
Los Angeles County earlier this month delayed approval of a bioscience overlay zone that aims to fast-track biotech development in unincorporated areas.
The zone, slated for a vote by the L.A. County Board of Supervisors on April 9, was postponed to a yet-to-be-determined date. A county representative said a vote could come later this month.
The initiative is pitched as part of an initiative launched last summer by Supervisors Mark Ridley-Thomas and Hilda Solis to streamline the entitling and permitting of new bioscience businesses in unincorporated areas that make up nearly 2,700 square miles of the county.
The proposed zone would allow bioscience companies a fast-track approval process for projects in areas not zoned for such businesses.

It would also encourage the development of bioscience hubs in places like Willowbrook and West Carson where bioscience firms could cluster together and where such businesses have a growing presence, according to a county motion.
If approved, county planners would prepare an ordinance that would by the end of 2019 amend the county planning and zoning code to establish a bioscience overlay zone when considering maximum parking standards and environmental reviews.
"It's a nice signal to the industry that the county is looking to support us in multiple ways," said Dina Lozofsky, executive director of Biocom L.A., a local bioscience trade group.
Staff reporter Dana Bartholomew can be reached at dbartholomew@labusinessjournal.com or (323) 556-8333.
For reprint and licensing requests for this article, CLICK HERE.