Airport Officials Unveil Initial Plans for Two New LAX Terminals
Thursday, April 4, 2019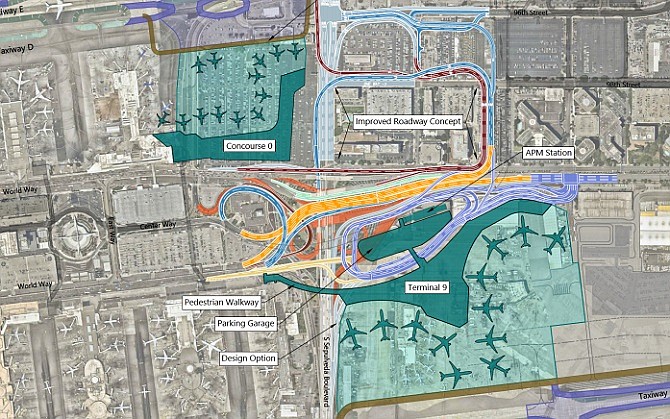 Los Angeles airport officials on April 4 unveiled preliminary plans for two new passenger terminals at Los Angeles International Airport.
The plans for the new terminals are contained in a preliminary environmental document outlining future airport improvements beyond the $14 billion overhaul now in the works. Two hearings on this document are scheduled for later this month, though any definitive action on the terminals remains years away.
The terminals, known as Terminal 9 and Concourse 0, would be on the eastern side of the airport's central terminal area: Terminal 9 would be east of Sepulveda Boulevard on the south side, while Concourse 0 would be near Terminal 1 (now Southwest Airlines) on the north side.
The Business Journal reported last year that these two terminals were on the drawing board.
LAX Expectations Outpaced by Gains: Surge amid $14B in renovations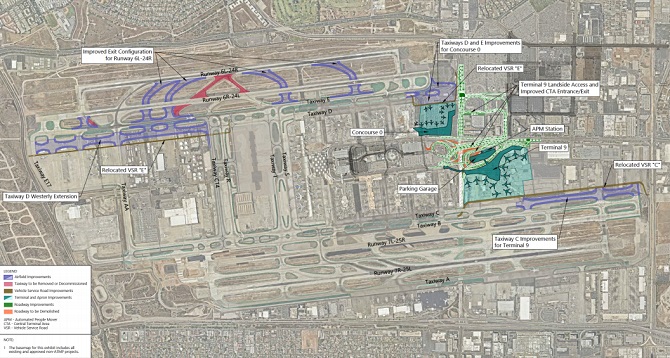 Terminal 9 would be the larger of the two, with roughly 1.2 million square feet of space, making it comparable in size to the Tom Bradley International Terminal. Concourse 0 would have about 750,000 square feet of facility space with the option to add 300,000 square feet of office/administrative space.
Taken together, the new terminals would add up to 29 gates to the airport, which would be partially offset by the removal of remote gates on the airfield.
Besides the new terminals, the document contains plans for extensive roadway improvements and a reconfiguration of the main vehicular entrance to the airport at the western end of Century Boulevard, as well as a pedestrian bridge over Sepulveda Boulevard connecting the existing Terminal 8 with Terminal 9. It also calls for more taxiway space on the northern pair of runways
The city of El Segundo reacted immediately to the release of the document, issuing a statement expressing "deep concerns" over what it terms a "massive proposed LAX expansion."
The preliminary environmental document did not contain cost estimates for the new terminals or any other improvements; nor did it contain a timetable for completion of any of the projects. Those figures and dates would likely emerge in more detailed environmental documents that would come out in the next year or two.
On April 5, an LAX spokesman said the airport intends for the project to be complete before the 2028 Olympics.
Education, energy, engineering/construction and infrastructure reporter Howard Fine can be reached at hfine@labusinessjournal.com. Follow him on Twitter @howardafine.
For reprint and licensing requests for this article, CLICK HERE.