Summit Pushes L.A. as Bioscience Leader
Ridley-Thomas touts county's ability to overtake rival San Diego market
Friday, September 28, 2018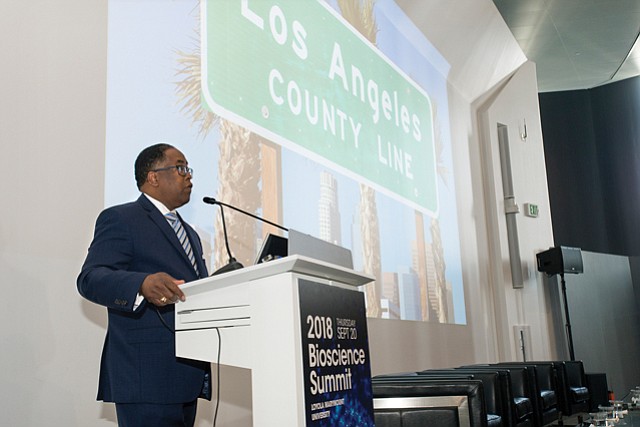 Los Angeles County's emerging biotechnology industry will soon pass San Diego as one of the nation's top hubs.
At least that was the official declaration Sept. 20 by county Supervisor Mark Ridley-Thomas at the county's inaugural Bioscience Summit, held this month at Loyola Marymount University in Playa Vista.
"We're moving – we're not sitting; we're moving," Ridley-Thomas, a bioscience industry advocate, told an estimated 200 participants. "Tell San Diego: Don't mess around; we're showing up. San Diego, look out. Something's getting ready to happen. We're announcing it right here today. We're going to put you in our rearview mirror one day."
Ridley-Thomas' declaration certainly applied to perceptions that persist even though Los Angeles has already surpassed San Diego by several key measures when it comes to biosciences.
Los Angeles County leads its neighbor to the south in overall bioscience jobs: 70,000 in Los Angeles to 50,000 in San Diego County, according to a study last year by Biocom, a statewide trade group based in San Diego.
Los Angeles also leads in four out of five bioscience sectors, including biopharmaceutical manufacturing, medical devices and diagnostics, wholesale goods and research, and lab services.
San Diego still holds the edge in biorenewables, including biofuels.
Biosciences in Los Angeles generated $40.3 billion in economic activity in 2016, according to the most recent data from Biocom, while San Diego's industry generated $34 billion. San Diego still holds a slight edge in bioscience labor income.
Los Angeles also leads San Diego in research funding from the National Institutes of Health, with $998 million in grants funneled to Los Angeles last year, compared with $883 million to San Diego.
Several panelists at the event said venture capitalists also are taking notice of Los Angeles' standing but noted one area where the local market lags: executive talent.
Ridley-Thomas also formally announced Bioscience Los Angeles County, or BioLA, a county-led nonprofit agency to promote the local bioscience industry, draw venture capital and nurture startup companies. He announced biotech giant Amgen Inc. of Thousand Oaks as one of what is expected to eventually be a roster of 11 founding private sector sponsors.
"Amgen is delighted to be a charter member of BioLA," said David Piacquad, senior vice president of business development for Amgen. "I think it's a great initiative. I think it fills a real void that we have."
UCLA Incubator Sees Growth
An incubator at the California NanoSystems Institute at UCLA was rebranded as the Magnify lab earlier this year with a goal of accelerating bioscience and other high-tech startups, including some from beyond the campus.
For reprint and licensing requests for this article, CLICK HERE.
Prev Next