Segal's Road Trip
RETAIL: Fashion brand heads overseas
Friday, September 28, 2018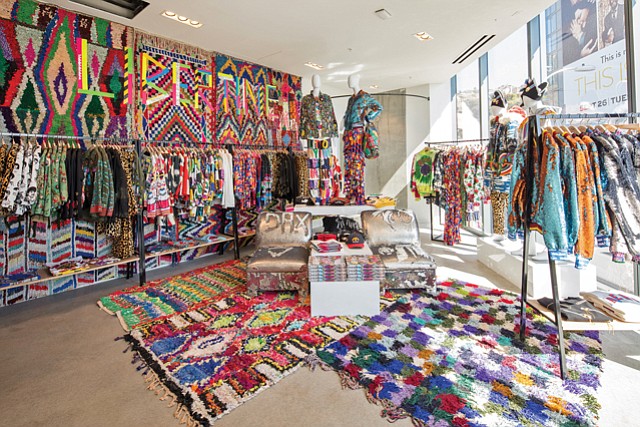 8500 W. Sunset Blvd. in West Hollywood saw a steady stream of musical acts, trunk shows, pets, cocktail offerings and other types of in-store events and services over the past year. That's what it took for Fred Segal Inc. to establish a solid foothold at its new flagship store on the Sunset Strip.
Mission accomplished, according to the retail brand's owner, which doesn't disclose financials but said the new location beat its first-year goal on sales by 20 percent.
Now the 57-year-old operation – long known as a launching pad for cutting-edge fashion – is going on the road. There are similar strategies for in-house events and appeal in the works for company-owned stores in other markets in the United States as well as licensed locations overseas.
Fred Segal is the eponymous creation of a merchant who built its cache over decades from its Los Angeles base. It's been in the hands of Sandow Media since 2012, when Sandow paid an undisclosed amount for the Fred Segal brand, which at the time had a store on Melrose Avenue in West Hollywood and another in Santa Monica. Fred Segal Santa Monica has since closed. The Melrose store is under different ownership and a legal dispute over the name is scheduled to be resolved later this year.
Sandow bills itself as a media company turned-brand-builder with "an untraditional approach" that "allows us to grow, diversify and demonstrate strength across a range of business areas," according to its promotional material. In 2014, it sold a majority stake of Fred Segal to downtown-based Evolution Media Capital.
It launched a growth strategy for Fred Segal this month, with two licensed stores in Japan. Others are on the way in Malaysia, Taiwan and Switzerland.
"We are owner-operators at our domestic locations," said Allison Samek, Fred Segal's chief executive. "Internationally, we license our brand, and a developer or operator there handles the leasing of the stores and brands."
Another domestic store opening is on the horizon, too – a spot in Malibu is slated to open in early 2019 to complement the West Hollywood flagship and an outpost at Los Angeles International Airport.
The expansion plan aims to build on the strong sales and lessons learned at the West Hollywood flagship store over the past year.
"You need to give people a reason to come into a physical store these days," said Josh Aldin, store director of the Sunset location. "For us, that means a great experience."
Prev Next
For reprint and licensing requests for this article, CLICK HERE.