Deals & Dealmakers: PE Firms Purchase Meek's
Deal adds building material supplier to roster, forms new parent company
Friday, September 28, 2018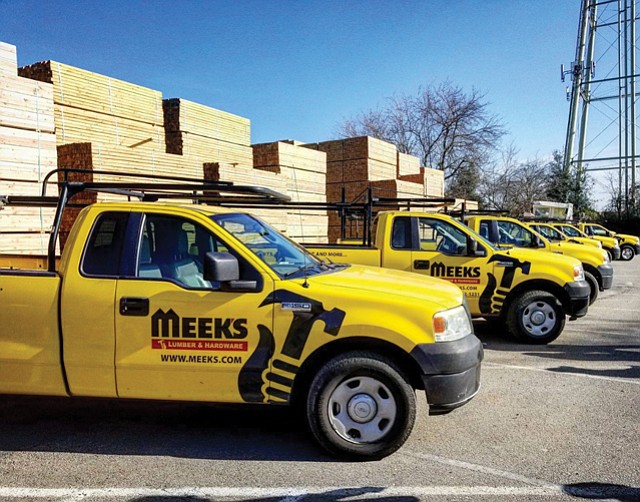 Clearlake Capital Group and Angeles Equity Partners have brought – and bought – the lumber.
The pair of Santa Monica-based private equity firms shelled out last week an undisclosed amount of cash for Springfield, Mo.-based building materials distributor Meek's Lumber Co.
Clearlake and Angeles Equity also formed a new entity, American Construction Source, as parent company of the building materials supplier. The firms said American Construction would look to acquire additional businesses in the market and build out Meek's existing line.
Meek's was formed in 1919 and has remained a family business through four generations. The company has operations in Arkansas, California, Missouri and Nevada.
Angeles Equity co-founder and Managing Partner Jordan Katz said in a statement that Meek's was a solid base to build on.
"Angeles views Meek's combination of scale and local market leadership as the basis for a compelling platform investment in the building products sector," he said. "We feel a tremendous responsibility to build upon the strong foundation the Meek family has assembled over four generations."
OpenGate Gets $265M for Nakan
Century City-based private equity firm OpenGate Capital announced an agreement to sell portfolio company Nakan for $265 million in cash to Houston-based Westlake Chemical Corp.
Nakan makes chemical products for the automotive, construction and medical industries. It's based in Reims, France, and has production facilities in China, France, Germany, Italy, Japan, Mexico, Spain and Vietnam.
The sale to Westlake Chemical is subject to exclusivity protection.
Nakan came under OpenGate ownership in 2015 when the latter bought it from France-based Arkema SA, a manufacturer of a wide range of chemicals, according to Bloomberg.
OpenGate founder and Chief Executive Andrew Nikou said in a statement the Nakan deal marked a seminal moment for the firm.
"OpenGate Capital's acquisition of Nakan in 2015 marked an important point in our firm's growth as it strengthened our position as a lower middle-market firm specializing in operationally complex, often cross-border transactions," he said. "I am so proud of the work that has been accomplished and congratulate the Nakan and OpenGate teams on their work that has resulted in the signing of this important agreement."
The deal is expected to close in early 2019 pending regulatory approval.
Dope Move for High Times
The company behind High Times magazine announced Sept. 26 that it bought Dope Media, a Seattle-based cannabis lifestyle magazine.
HighTimes Holding Corp. bought Dope Media in a cash-and-stock deal valued at $11.2 million.
Dope Media publishes regional magazines and hosts the Dope Cup cannabis events in Portland and Seattle, which are similar to High Times' Cannabis Cup marijuana contests.
High Times changed ownership last year, and it is undergoing a Regulation A offering, a variation of a public offering in which unaccredited investors may purchase stock.
"Dope is a very strategic acquisition for our portfolio offering key complementary assets to our existing platforms and opening the opportunity for economies of scale to improve performance of all our entire publication group," High Times Chief Executive Adam Levin said in a statement.
Acuant Gets Boston Backer
Boston-based private equity firm Audax Group Inc. purchased a controlling interest in Culver City-based identification verification software developer Acuant Inc. in a deal finalized Sept. 24.
Audax acquired the company from Insight Venture Partners, Lightview Capital and Egis Capital Partners.
Acuant was founded in 1999, and its AssureID software is used to scan and authenticate documents and prevent identity fraud. The company offers an array of verification software including facial recognition and auto-fill. Clients include LexisNexis Group Inc., Experian, HID Global Corp. and Honeywell International Inc.
"(Acuant) offers a best-in-class product suite that addresses rising transactional fraud in the digital economy," according to Audax Chief Executive Geoffrey Rehnert. "The company is strongly positioned for continued growth as organizations seek solutions to reduce risk, increase revenue and meet compliance objectives."
Deal terms were not disclosed.
"By bringing on Audax as an investment partner, we now have what we believe are the strategic resources to dramatically accelerate Acuant's growth," Acuant Chief Executive Yossi Zekri said.
Have a deal tip? Henry Meier can be reached at (323) 556-8321.
For reprint and licensing requests for this article, CLICK HERE.