Deals & Dealmakers: PE Firms Purchase Meek's
Deal adds building material supplier to roster, forms new parent company
Friday, September 28, 2018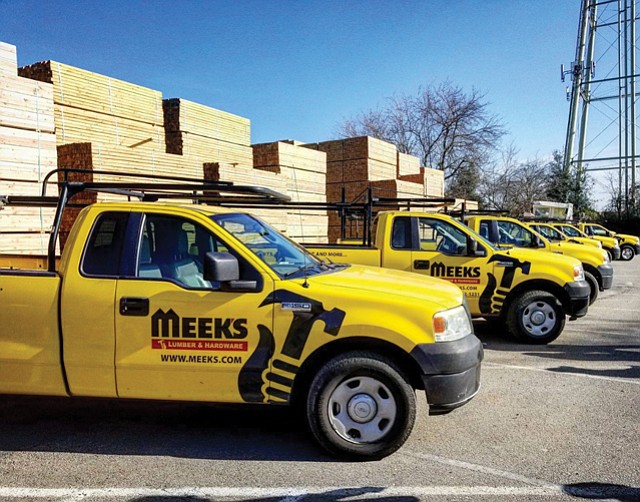 Clearlake Capital Group and Angeles Equity Partners have brought – and bought – the lumber.
The pair of Santa Monica-based private equity firms shelled out last week an undisclosed amount of cash for Springfield, Mo.-based building materials distributor Meek's Lumber Co.
Clearlake and Angeles Equity also formed a new entity, American Construction Source, as parent company of the building materials supplier. The firms said American Construction would look to acquire additional businesses in the market and build out Meek's existing line.
Meek's was formed in 1919 and has remained a family business through four generations. The company has operations in Arkansas, California, Missouri and Nevada.
Angeles Equity co-founder and Managing Partner Jordan Katz said in a statement that Meek's was a solid base to build on.
"Angeles views Meek's combination of scale and local market leadership as the basis for a compelling platform investment in the building products sector," he said. "We feel a tremendous responsibility to build upon the strong foundation the Meek family has assembled over four generations."
OpenGate Gets $265M for Nakan
Century City-based private equity firm OpenGate Capital announced an agreement to sell portfolio company Nakan for $265 million in cash to Houston-based Westlake Chemical Corp.
Nakan makes chemical products for the automotive, construction and medical industries. It's based in Reims, France, and has production facilities in China, France, Germany, Italy, Japan, Mexico, Spain and Vietnam.
The sale to Westlake Chemical is subject to exclusivity protection.
Nakan came under OpenGate ownership in 2015 when the latter bought it from France-based Arkema SA, a manufacturer of a wide range of chemicals, according to Bloomberg.
OpenGate founder and Chief Executive Andrew Nikou said in a statement the Nakan deal marked a seminal moment for the firm.
"OpenGate Capital's acquisition of Nakan in 2015 marked an important point in our firm's growth as it strengthened our position as a lower middle-market firm specializing in operationally complex, often cross-border transactions," he said. "I am so proud of the work that has been accomplished and congratulate the Nakan and OpenGate teams on their work that has resulted in the signing of this important agreement."
The deal is expected to close in early 2019 pending regulatory approval.
Dope Move for High Times
The company behind High Times magazine announced Sept. 26 that it bought Dope Media, a Seattle-based cannabis lifestyle magazine.
HighTimes Holding Corp. bought Dope Media in a cash-and-stock deal valued at $11.2 million.
Prev Next
For reprint and licensing requests for this article, CLICK HERE.