Cedars Sets Sight on Stem Cells
Health Care: $2M grant; 450 jobs on tap
Friday, September 28, 2018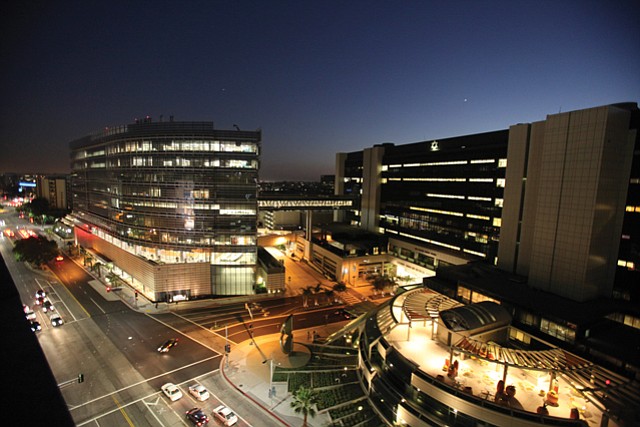 Cedars-Sinai Medical Center is poised to go into biotech manufacturing.
The U.S. Commerce Department on Sept. 21 awarded a $2 million grant to the Beverly Grove hospital to buy equipment for a new Cedars-Sinai Biomanufacturing Center. The funding was issued through the department's Economic Development Administration.
The new center is expected to create 444 jobs and draw $47 million in private investment, according to Cedars-Sinai estimates provided to the Commerce Department.
"Already one of the top hospitals in the country, the Cedars-Sinai Medical Center has also become a leader in bioscience manufacturing," said Commerce Secretary Wilbur Ross in a statement. "Moreover, this new development will help local startup companies in the bioscience industry grow and flourish."
The federally funded equipment for the Cedars-Sinai Biomanufacturing Center will allow academic, clinical and commercial researchers to develop and manufacture clinical-grade induced pluripotent stem cell products, according to the Commerce Department. These so-called master cells can potentially reproduce any cell or tissue the body needs to repair itself.
The center also will provide lab space and facilities to train workers in regenerative technology, it said.
A Cedars-Sinai spokeswoman declined to comment on the new stem cell manufacturing facility, saying the center is still in the planning stages.
Cedars-Sinai is the largest nonprofit hospital in the western United States and provides a health system in the Los Angeles County region. Its flagship Beverly Grove research hospital, with 885 staffed beds, dwarfs other hospitals in Los Angeles.
The medical center employs more than 15,000 workers who care for 47,000 inpatients a year and nearly 2,000 outpatients a day.
Thomas Priselac, the president and chief executive of Cedars-Sinai since 1994, and an employee at the hospital for nearly four decades, has been a force on the national health care scene.
Cedars-Sinai took in $2.9 billion in net patient revenue last year, according to the Business Journal's 2018 list of largest hospitals, down from $3 billion in 2016. Its operating margin was 10 percent.
L.A. stem cell base
A Cedars-Sinai stem cell facility stands to bolster the Los Angeles region's already robust market, which is home to several top-notch stem cell manufacturers.
City of Hope National Medical Center has a "world-class facility" for stem cell manufacturing, producing high-quality therapeutic products for commercial and academic clinical trial sponsors across the United States, according to the California Institute for Regenerative Medicine, the state's stem cell grant-making agency.
The Duarte-based research hospital now has three on-campus laboratories that produce both biologic and chemical compounds, and help set good manufacturing practice (GMP) standards. Researchers say City of Hope's facilities allow the hospital to more quickly turn scientific discoveries into lifesaving therapies.
Its GMP Manufacturing Core Facility is now the only one in the nation to offer both biological and chemical GMP manufacturing, with nearly 42,000 square feet of combined manufacturing and production space.
Over the past five years, according to the facility's website, the manufacturing site was employed by 28 unique researchers who produced 553 biomedical products, in addition to seven separate cancer clinical trials. 
UCLA also has its own stem cell manufacturing center.
The 2,400 square-foot UCLA Human Gene and Cell Therapy Facility supports manufacturing of gene and cell therapy products for UCLA investigators as well as other academic and industry partners conducting clinical trials.
For reprint and licensing requests for this article, CLICK HERE.