AEG, Kings Stake Claim in China Market
Club to operate affiliate with Beijing-based company signed on as sponsor
Friday, September 28, 2018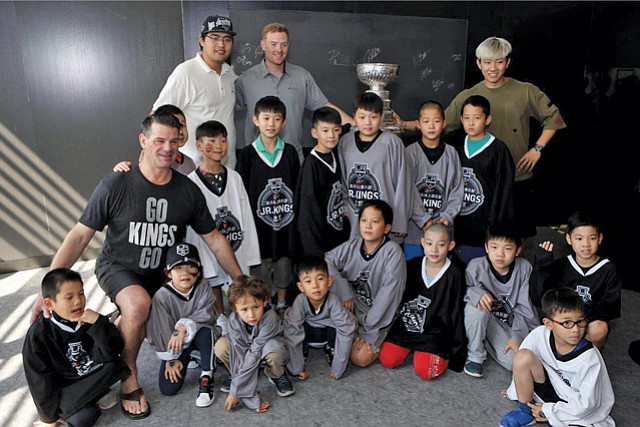 Downtown-based Anschutz Entertainment Group Inc.'s sponsorship arm has joined with its hockey team to establish the first National Hockey League-affiliated youth hockey club in China.
AEG Global Partnerships orchestrated the deal with Beijing-based packaging company ORG Packaging to sponsor the Beijing Jr. Kings as the inaugural youth hockey program in China. The team will be fully owned and operated by AEG's Los Angeles Kings.
The big-league Kings traveled overseas for two games in China as part of the 2017-2018 preseason, facing off against the Vancouver Canucks, with both matches hosted by ORG Packaging. They were the first NHL games in China; one was played at the Mercedes-Benz Arena in Shanghai and the other at the AEG-owned Cadillac Arena in Beijing.
"Coming off the success of our trip to China last year, and the numerous clinics and camps we have hosted in China over the years, this is a tremendous announcement for the L.A. Kings and we are very pleased to not only continue our relationship with ORG but to also expand our relationship with ORG in a very meaningful way," Luc Robitaille, president of the L.A. Kings, said in a statement.
The Kings have spent the past three summers traveling to China. Past visits have seen the team work with hockey officials, coaches and local kids to teach the game and develop relationships through the Kings Hockey Development department and Kings Alumni Association. The organization also has sponsored children from China to participate in the Kings Youth Hockey Camp, which takes place at the Kings training facility in El Segundo.
The agreement with ORG Packaging calls for the Beijing Jr. Kings' program to use the new Beijing A.Z. Ice Sports Club facility. The team will be coached by Todd Elik, a former L.A. Kings player.
Rams, Chargers + Pizza Hut
The Los Angeles Rams might have bested their crosstown rival Los Angeles Chargers in the first "L.A. Bowl" Sept. 23 at the Coliseum, but you can call it a tie when it comes to a recent deal with Pizza Hut.
The Plano,Texas-based pizza chain, a unit of Yum Brands Inc., based in Louisville, Ky., recently signed on as the National Football League's official pizza sponsor. The deal came after the NFL ended a long-standing relationship with the Louisville, Ky.-based Papa John's International Inc. chain in February.
"As Los Angeles gets back to football, we're thrilled to partner with Pizza Hut to enhance the gameday experience for our fans," Jamie Reigle, executive vice president of business operations for the Rams, said in a statement.
Prev Next
For reprint and licensing requests for this article, CLICK HERE.